The is a sponsored post in partnership with The Little Gym and The Motherhood.
Gracie's been asking to do gymnastics for some time now, and the truth is, I just didn't know where to start when it came to finding a gym. I knew I didn't want an overly competitive gym, I'm not ready to spends hours a day, every day, at practice. I simply wanted a place where she could enjoy fun, interactive gymnastics for kids in a safe environment. One where she can grow not just physically, but socially as well.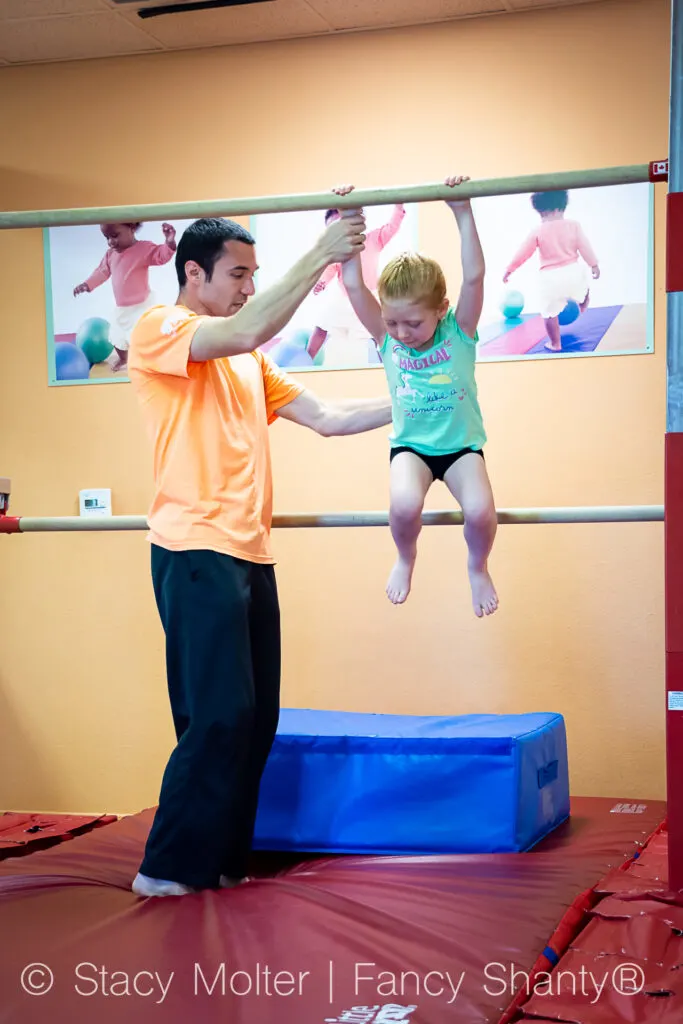 If you're like me and you're looking for a positive, non-competitive gym where your child can have some serious fun, I highly recommend The Little Gym. The Little Gym offers unique, educational, movement-based classes for grade-school ages, including parent/child classes, gymnastics, dance, and sports prep. Learn why we love The Little Gym so much, and why this may be the perfect gym for you and your family.
The Little Gym – Fun Gymnastics for Kids
The facility at The Little Gym closest to us features everything a future gymnast needs to get started on their path to success. Mini bars, uneven bars, parallel bars, balance beams, vaults, and more line the floor alongside a rainbow of various training mats, including inclines, wedges, donuts, and octagons.



Our first class was just as much about our instructor learning Gracie's ability and strengths, as well as it was about Gracie finally getting her first taste of gymnastics. To find her true athletic level, we started out small with movements like the handstand, somersaults, and backward somersaults.






Then, Gracie tried the various bars throughout the gym, and this is where her love for The Little Gym intensified. The high bars and uneven bars are where her heart is, and where she spends most of her practice time at the gym.







On the beam, she let her true bravery show as she was eager to take her first leap off the beam. She actually caught us all off guard, though I wasn't really surprised by her fearlessness. As you can see, she definitely feels comfortable in her safety with the instructors at The Little Gym, and as a parent, I do too.


What I love most about The Little Gym is their philosophy called Three-Dimensional Learning, in which every class offered fosters a child's growth in three holistic dimensions—Brain Boost!, Get Moving!, and Citizen Kid! In every dimension, self-confidence and a proud smile are evident outcomes, and as you can see on Gracie's face, she always has a smile from ear to ear.
Brain Boost! is designed to expand the mind to develop a love of learning with improved listening skills, concentration, problem-solving abilities, and creative expression.
Get Moving! is all about physical activities to burn the boundless energy, increase flexibility and strength, and develop balance and coordination.
And my personal favorite, Citizen Kid!, teaches life skills like sharing, teamwork, and leadership.
While there is a lot of training and learning going on in every class, kids also participate in some pretty fun games like Spud, Dragon's Gold, and Lemonade. Additional games feature fun props including hula hoops, parachutes, bean bags, and more.








Gracie seriously loves her class at The Little Gym, and I love how much she is growing physically and emotionally. She's now in the Flips/HotShots class and, for her age, the schedule of one lesson a week with two practices days is perfect for giving her the opportunity to better herself in the gym, without exhausting or burning her out. She still has enough free time in her schedule to do what's most important in life, being a kid and enjoying summer vacation.
If you're looking for a gym near you that offers fun gymnastics for kids, I highly recommend you visit The Little Gym in your area. Trust me when I say, your child will love it.