Add a little sweet to your salty with this Salted Dark Chocolate Popcorn recipe. Easy to make and ready in under 10 minutes, this simple snack recipe is perfect for a movie night at home.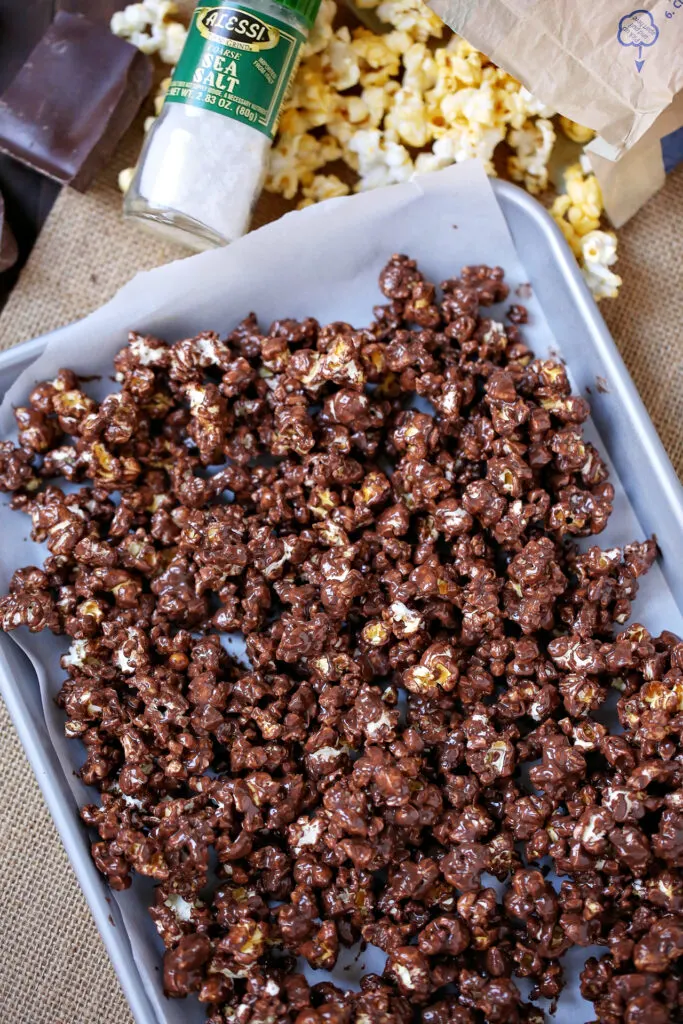 See also: Minions Munch Vanilla Honey Caramel Popcorn Recipe, Caramel Popcorn Snack Mix Recipe
Salted Dark Chocolate Popcorn Recipe
You won't believe how easy this salted dark chocolate popcorn recipe is to make. With just three simple ingredients, you can make a delectable treat that not only tastes great but is fun to make. By step #4 you're going to want to crank up the music!
Best of all, you can customize this versatile dessert my mixing in your favorite treats like M&M's, pretzels, nuts, and more!
Ingredients:
4 cups prepared (popped) popcorn
8 ounces good-quality dark chocolate, chopped
3/4 teaspoon fine sea salt, divided
Directions:
Line a rimmed baking sheet with parchment paper and set aside.
Place prepared popcorn in a large bowl Ziplock bag and set aside.
Using a microwave-safe measuring cup, heat chocolate and 1/2 teaspoon salt in the microwave for 30-second increments until chocolate is soft and becomes liquid when stirred gently.
Immediately pour melted chocolate into the Ziplock bag with the popcorn and shake to coat as thoroughly as possible. This is the time to get your groove on and seriously shake it. Get the kids involved and make it a fun dance party in the kitchen.
Spread the coated popcorn evenly onto the baking sheet and sprinkle with remaining 1/4 teaspoon salt.
Let sit at room temperature until chocolate has hardened, about 1 hour.
This salted dark chocolate popcorn recipe can be stored in an airtight container for up to three days but my guess is it won't last that long, at least it never does in our house.