These Coconut Surprise Key Lime Cupcakes are bursting with sweet, key lime flavor with a hidden sweet coconut surprise in the center. Topped with a fluffy lime flavored frosting, leaf fairy wings and candy flowers from a magical forest, these Coconut Surprise Key Lime Cupcakes are sure to please the little fairies in your life.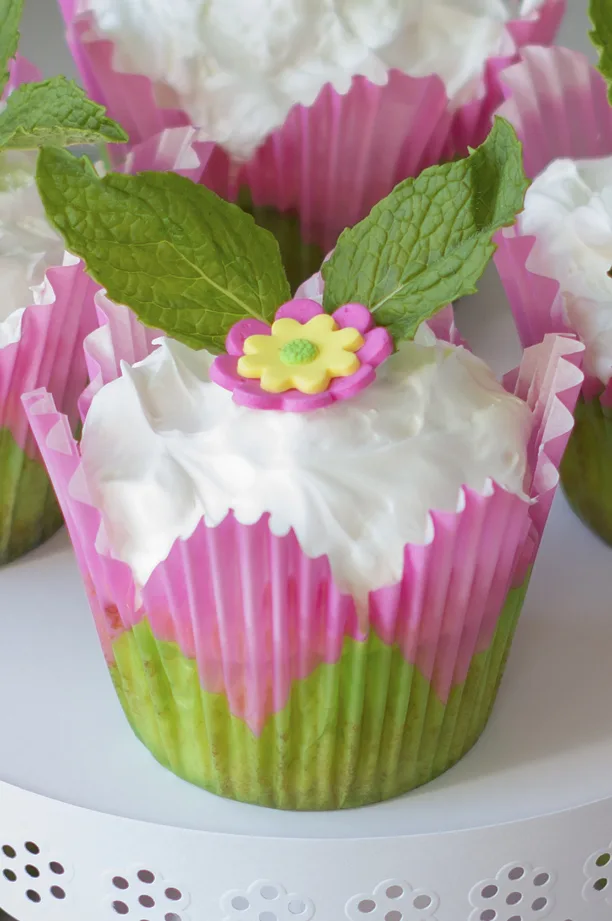 Coconut Surprise Key Lime Cupcakes Recipe
Ingredients:
For the Cupcakes
1 1/2 cups all-purpose flour, sifted
1 tsp. baking powder
1/4 tsp. coarse salt
1/2 cup whole milk, room temperature
1 tsp. pure vanilla extract
3 tbsp key lime juice
1 tbsp key lime zest
1/2 cup (1 stick) unsalted butter, room temperature
1 cup sugar
1 large egg, room temperature
2 large egg whites, room temperature
toothpick or skewer
For the Filling:
1/4 cup sweetened condensed milk
1/8 teaspoon salt
1 teaspoon vanilla
1 cup powdered sugar
1 cup sweetened shredded coconut
For the Frosting:
canned vanilla frosting (Not the whipped variety)
1 tbsp key lime
1/2 cup confectioners sugar
Directions: For the cupcakes:
Preheat oven to 350 degrees. Line a 12-cup muffin tin with cupcake liners; set aside.
In a medium bowl, whisk together flour, baking powder, and salt; set aside. In a small bowl, mix together milk, vanilla, key lime zest and 2 tbsps of lime juice; set aside.
In the bowl of an electric mixer fitted with the paddle attachment, cream butter on medium-high speed, until light and fluffy. Gradually add sugar and continue to beat until well combined and fluffy. Reduce the mixer speed to medium and slowly add egg and egg whites until just blended.
With the mixer on low, slowly add half the flour mixture; mix until just blended. Add the milk mixture; mix until just blended. Slowly add remaining flour mixture, scraping down sides of the bowl with a spatula, as necessary, until just blended.
Divide batter evenly among prepared muffin cups. Transfer muffin tin to oven and bake until tops are just dry to the touch, 22 to 25 minutes. Transfer muffin tin to a wire rack and let cupcakes cool completely.
Set aside and combine filling ingredients.
For the Filling:
Combine sweetened condensed milk, salt, and vanilla together.
Add in powdered sugar and stir until mixed.
Add in shredded coconut. Stir until mixed.
Using the cone method, add a 2-3 tsp of filling to the center of each cupcake and replace cupcake top.
Use a toothpick or skewer to poke the tops of the cupcakes with holes. Use pastry brushes to brush remaining lime juice over the top of the cupcake.
Let cupcakes dry slightly before topping with key lime frosting.
For the Frosting:
Place the store-bought frosting in a bowl and begin whipping with an electric mixer or stand mixer.
Add 1 tbsp Key Lime juice.
Slowly add about 1/2 cup confectioners sugar and continue whipping until a spatula will stand upright when placed in the middle of the frosting. If the spatula falls to one side, continue adding more confectioners sugar in small increments until the spatula will stand upright. For a stronger key lime flavor, continue slowly adding 1 tbsp + 1/2 cup confectioners sugar to frosting then taste & check consistency.
Frost and decorate the cupcakes with fresh lemon or lime leaves (mint leaves can be used as a substitute), lime zest, shredded coconut, strawberries, flowers and fairy wings.