Add a little fun to your Easter celebrations with these free printable Easter Basket games for kids. With two games to choose from, the What's in Your Basket Game and the Easter Egg Exchange Game, your family is sure to find a new family tradition everyone loves.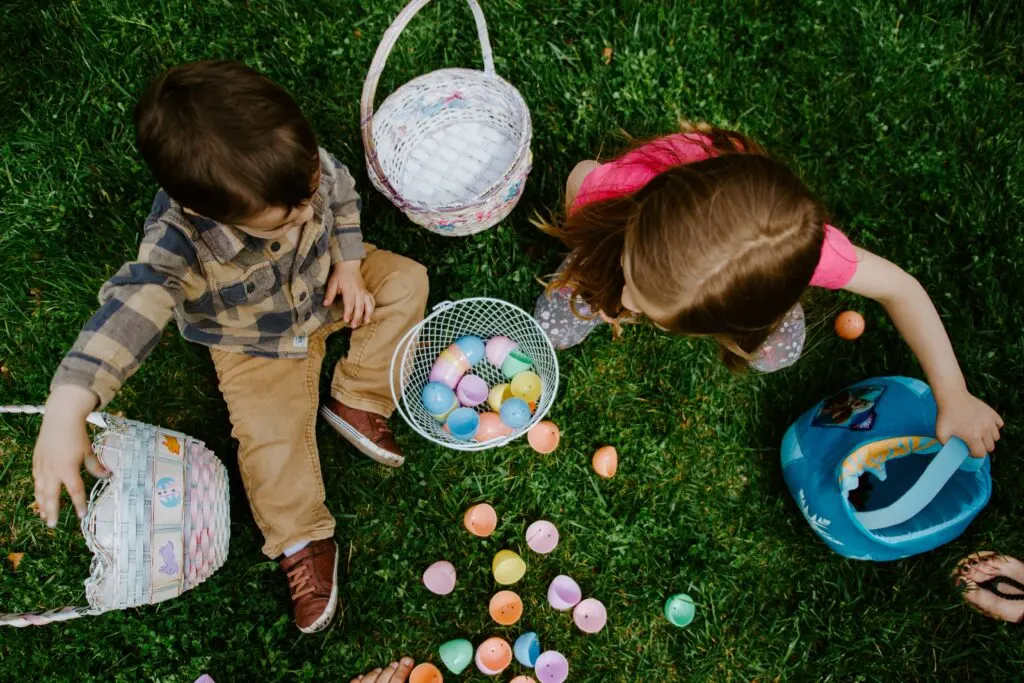 See also: Easter Ice Cream Cake Recipe, Free Printable Resurrection Scavenger Hunt, 5 Faith-Based Easter Snack Ideas for Kids + Free Printable Resurrection Verses
Print out a handful of these printable games before the party begins, or create a printed poster with the rules to hang on the wall for all to see.
Free Printable Easter Basket Games for Kids
What's In Your Basket Game
The What's In Your Basket Game is a versatile game for any Easter celebration.
Everyone will have a great time as they grab a piece of floor or table and spill their Easter Baskets in search for the items listed in this Easter game. After all, who doesn't enjoy a little Easter basket raid among family and friends?
Best of all, this game comes in two formats, candy and non-candy, to suit any family tradition. You can even combine both games together for a large family or crowd.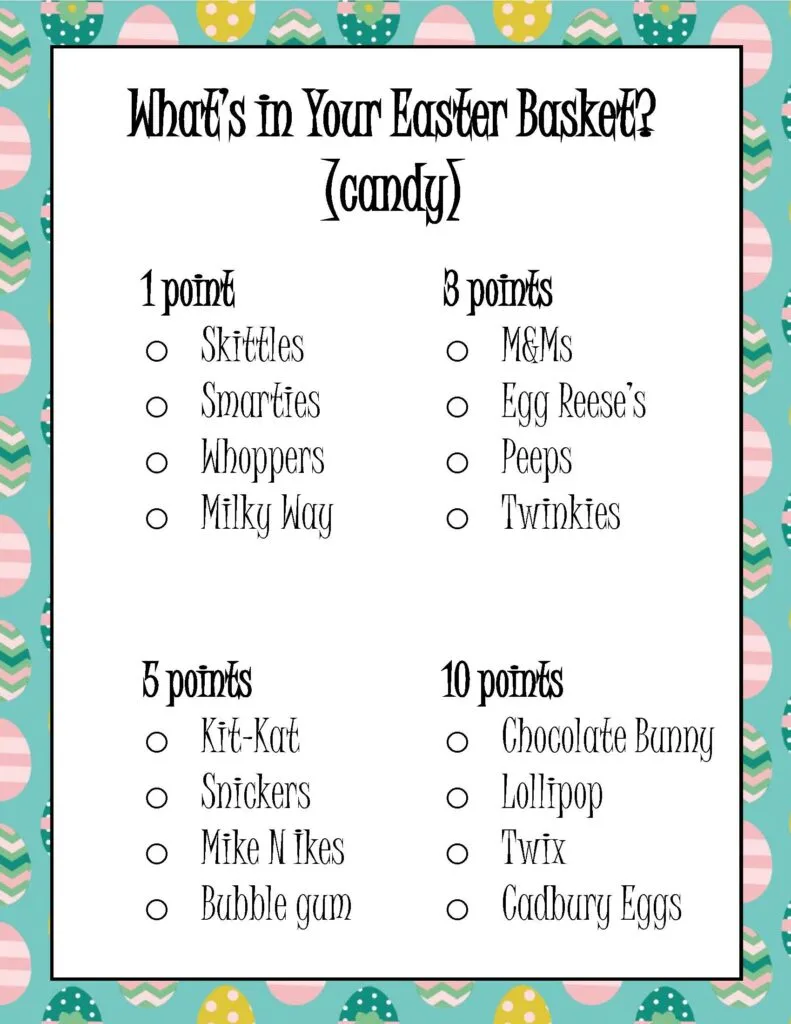 The only prerequisite to playing this Easter Basket game is to have a full Easter basket. A perfect score would mean that someone had all 16 items which totals 76 points.
Scoring for your What's In Your Basket Game can be done one of two ways.
(1) If no one has all 16 items, whoever possesses the most items and comes up with them first shall be the winner.
(2) In the alternative, you could provide a specific time limit for everyone to search their baskets for the items and at the end of your time limit whoever has found and checked off the most items is the winner.

Download the What's In Your Easter Basket Game here.
Easter Egg Exchange Game
The Easter Egg Exchange Game is one of our favorite games to play because you never know what's going to happen in this switch, steal, trade the egg hunt finds game.
No egg is safe until after the last dice are rolled and even then, you just never know what might happen! This will become a family favorite Easter game year after year!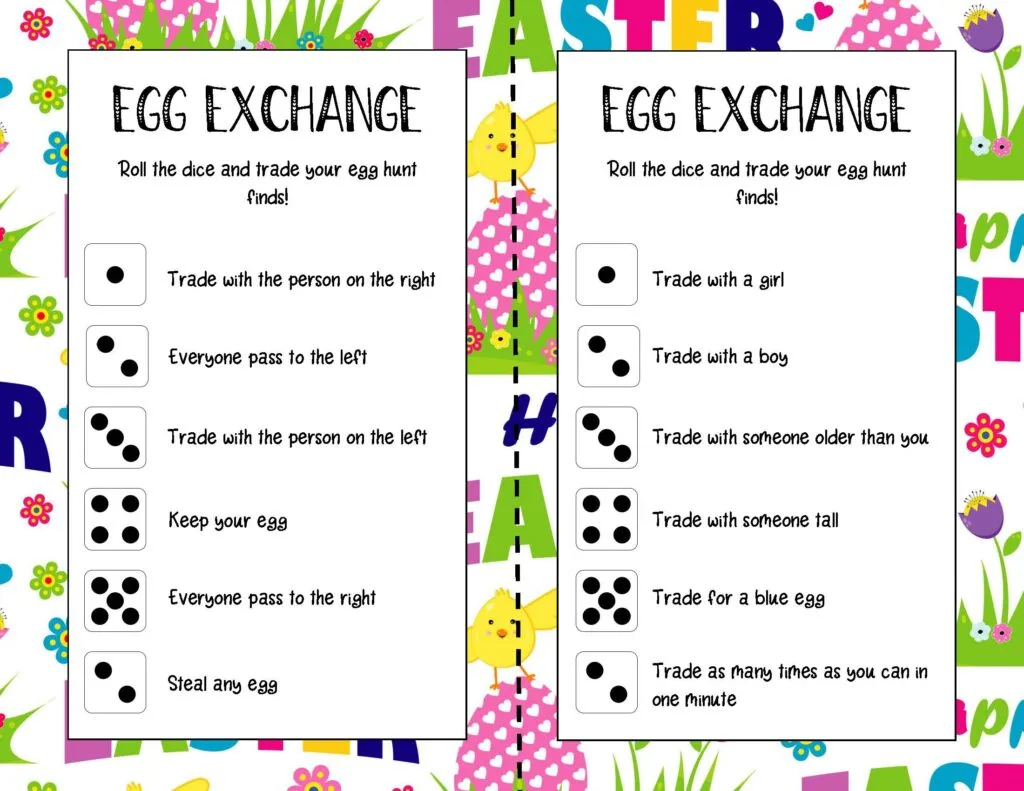 How to Play the Easter Egg Exchange Game
This Easter Egg Exchange game comes with two game boards. You can play one board at a time, or with both boards for an excitingly fun game!
To begin, have everyone place their eggs in a pile in the middle of the floor. Then, have everyone randomly pick out one (or two or three) eggs from the center on the pile and sit in a circle.
Choose someone to start the game and give them the dice. You will use as many dice as there are eggs from each person; one egg = one dice, two eggs = two dice. three eggs = three dice, etc.
Have the player roll the appropriate number of dice and take action base on what they roll. Each dice corresponds to on egg in the pile. The person who rolls the dice gets to choose which eggs to swap and steal.
Roll a 1 – Trade with a person on the right. / Trade with a girl.
Roll a 2 – Everyone pass to the left. / Trade with a boy.
Roll a 3 – Trade with a person on the left. / Trade with someone older than you.
Roll a 4 – Keep your egg. / Trade with someone tall.
Roll a 5 – Everyone pass to the right. / Trade for a blue egg.
Roll a 6 – Steal any egg. / Trade as many times as you can in one minute.
If someone cannot complete an action, their turn is over. Better luck next time.
Once the player has completed all fo their actions, they hand the dice to the person on their left and it is not that persons turn.
Continue playing around the circle switching, stealing, trading eggs until everyone has had a turn. Then, open the eggs to see what everyone has received.
Download the Easter Egg Exchange Game here.
Share these Easter Basket Games for Kids with family and friends by pinning the image below.