This Strawberry Pineapple Salsa recipe is a delightful twist on a traditional salsa recipe that incorporates the flavors of sweet strawberries and tropical pineapple. This fruity combination creates a fresh, vibrant, and versatile salsa perfect for summer gatherings, potlucks, or as a topping for grilled meat and fish dishes. The contrast of the sweet fruits with the savory ingredients like red onion and jalapeno pepper makes it an appealing dish for a wide range of palates.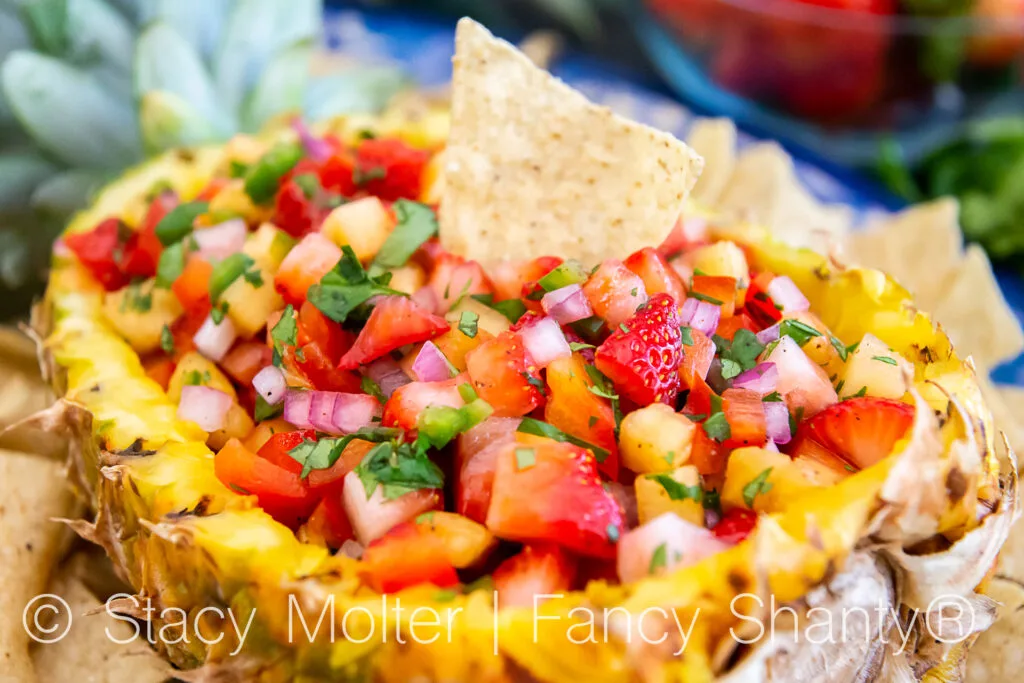 See also: Easy Guacamole Recipe, 3 Easy Salad Recipes
Preparing this enticing salsa recipe is a breeze, as it mainly involves chopping and dicing fresh ingredients. In addition to strawberries and pineapple, other key ingredients include tomatoes, a small red onion, fresh cilantro, lime juice, and jalapeno pepper (optional for those who prefer a little heat). The recipe can be customized to suit individual preferences, making it a fun and adaptable dish to share with friends and family.
Strawberry Pineapple Salsa Recipe: A Fresh and Flavorful Treat
Ingredients Needed
To make a delicious and fresh Strawberry Pineapple Salsa, you will need the following ingredients:
Pineapple: A ripe and juicy pineapple is essential in this recipe. It provides a sweet and tangy base that balances the flavors of the other ingredients.
Strawberries: Fresh strawberries add a wonderful burst of sweetness and color to the salsa.
Lime: Limes are used in two ways; lime zest and lime juice. The zest provides extra fresh flavor, while the juice enhances the acidity and brightness of the salsa.
Red Onion: Adding finely chopped red onion brings a bit of sharpness and crunch, creating a perfect contrast to the soft fruits.
Cilantro: Fresh cilantro is essential in this salsa, as it adds a unique and vibrant herbal taste.
Jalapeno: To add a bit of heat, use a fresh and finely minced jalapeno pepper. You can adjust the amount per your spice preference.
Salt: A pinch of salt helps to balance the sweetness of the fruits and enhance the overall flavor of the salsa.
To make the Strawberry Pineapple Salsa, follow these easy steps:
Chop the pineapple and strawberries into small, equal-sized pieces.
Finely chop the red onion, jalapeno, and fresh cilantro.
Zest one lime and then squeeze the juice from the lime.
Combine all of the ingredients in a large bowl, gently mixing to combine.
Allow the salsa to chill for a short time to let the flavors meld.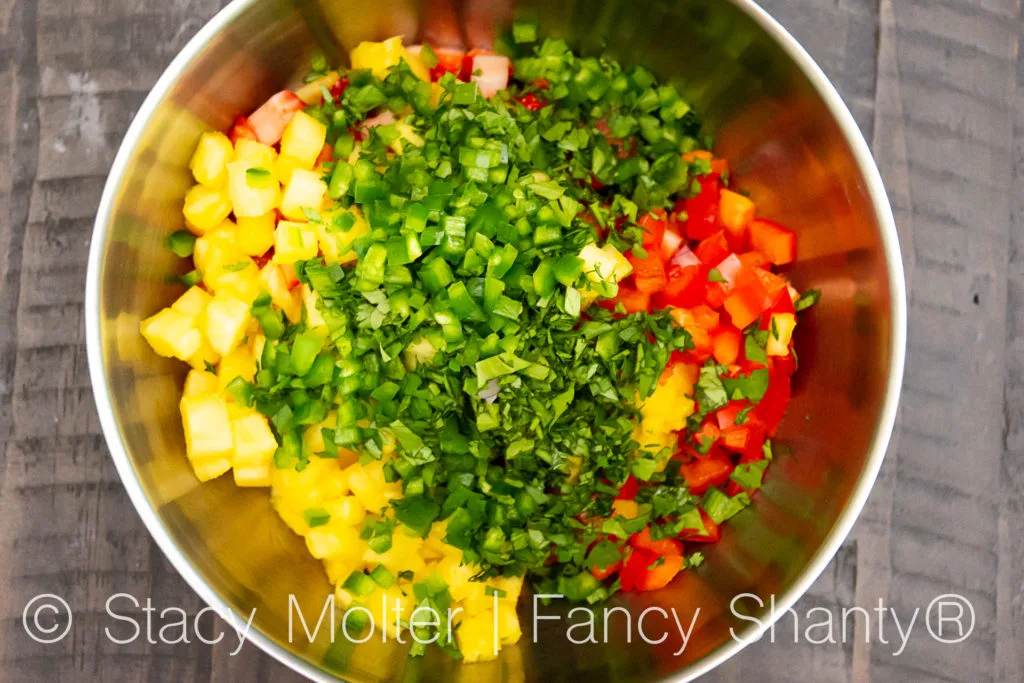 Enjoy the Strawberry Pineapple Salsa with your favorite chips or as a topping for grilled meats or seafood. This fruity and flavorful salsa is sure to be a hit at any gathering!
This recipe can be made a few hours before to let the flavors mingle, but keep in mind, if you make the recipe the day before the pineapple bowl won't look as fresh the next day.
Preparation and Chop
To prepare a delightful strawberry pineapple salsa, one must gather a large bowl, a sharp knife, and of course, the fresh ingredients. Begin by using the sharp knife to dice the strawberries and remove their stems. Their size should be small, bite-sized pieces. Next, peel and core the pineapple, then chop it into tidbit-sized pieces, making sure to dispose of any unwanted skin or stem.
Once the fruits have been diced and chopped, place them into a large bowl to begin creating the salsa. In addition to the fruits, consider adding finely chopped red onion, jalapeño pepper (remove ribs and seeds for a milder taste), and a mix of fresh herbs like cilantro and mint. For an extra kick of flavor, integrate lime zest and juice, as well as a splash of olive oil and a pinch of salt.
Here's a quick overview of the chopping process:
Dice strawberries into small, bite-sized pieces
Chop pineapple into tidbit-sized pieces
Finely chop red onion
Remove ribs and seeds from jalapeño pepper, then finely dice
Chop cilantro and mint
Once all the ingredients are chopped and in the large bowl, carefully mix everything together. It's important not to overmix, as the fruits should maintain their shape and texture. The mixture should appear colorful and vibrant, with a nice balance of sweet and savory elements.
While preparing and chopping the ingredients for this strawberry pineapple salsa, it's essential to keep a friendly tone in the kitchen. Enjoy the process of creating this delicious dish, as the final result will surely be worth the effort!
Recipe Instructions
This friendly and easy-to-follow strawberry pineapple salsa recipe will have your taste buds tingling with its combination of sweet fruit and tangy lime juice. Let's dive right into the preparation process!
Begin by gathering the following ingredients:
1 pint of strawberries, hulled and diced
1.5 cups of pineapple, peeled and diced
1 small red onion, finely chopped
1/4 cup of fresh cilantro, chopped
1 jalapeño, seeded and minced (optional for added spice)
Juice of 1 lime
Zest of half a lime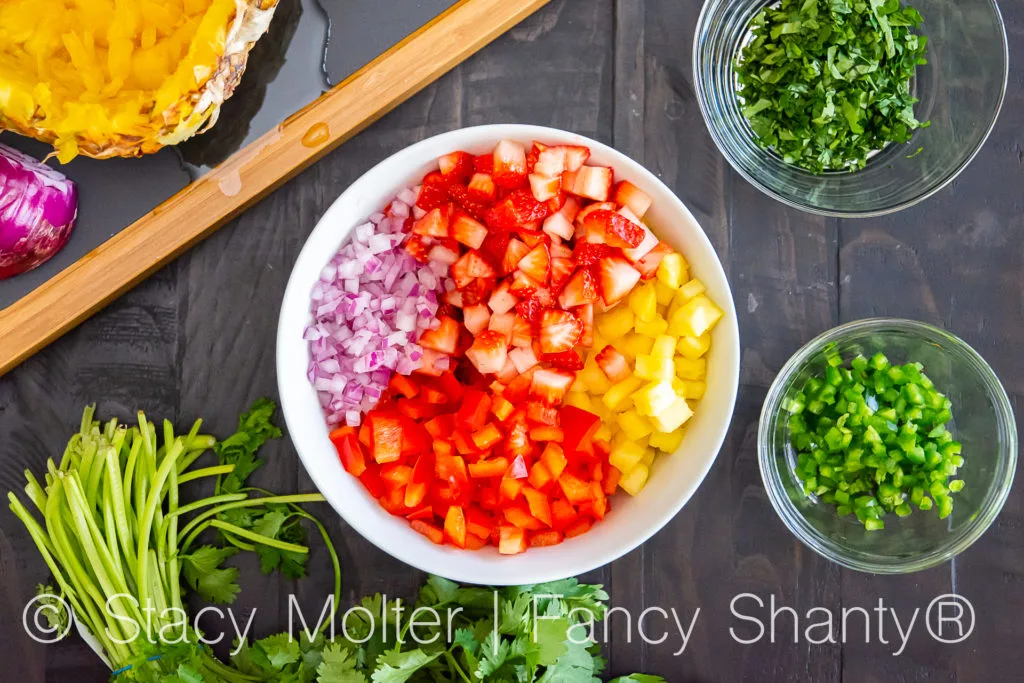 Once you have all the ingredients ready, follow these simple steps:
In a large mixing bowl, combine the diced strawberries and pineapple. Stir gently to mix the fruit together and form the base of your fruit salsa.
Add in the finely chopped red onion and cilantro to the bowl. These flavors will provide a savory and herbaceous touch to the sweet fruit mixture.
If you enjoy a little heat in your salsa, toss in the minced jalapeño at this point. This ingredient is optional, so feel free to leave it out if you prefer a milder flavor.
Squeeze the juice of one lime directly into the bowl and add the zest of half a lime. The tangy lime juice will brighten the flavors and help blend them together effortlessly.
Gently mix all the ingredients, making sure everything is evenly distributed and well combined. Be careful not to crush the fruit while mixing.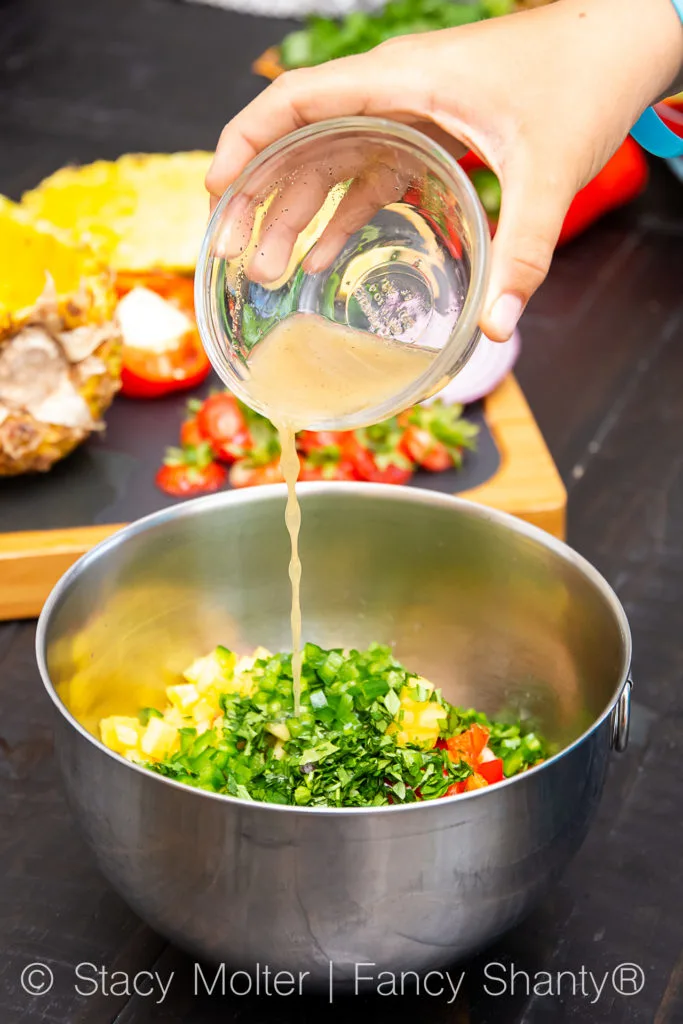 When the salsa is well combined, cover the bowl with plastic wrap or a lid and place it in the refrigerator. Allow the salsa to chill for at least 30 minutes to let the flavors meld together and fully develop.
Serve your delightful strawberry pineapple salsa as a versatile and refreshing accompaniment to grilled fish, chicken, or even as a dip with tortilla chips. Enjoy the burst of sweet, tangy, and savory flavors in every bite!
Serving Suggestions
When it comes to enjoying strawberry pineapple salsa, there are a variety of ways to incorporate this delightful recipe into your meals. The salsa's sweet and tangy flavors pair well with different types of dishes, making it a versatile addition to your culinary repertoire.
One popular way to serve this fruity salsa is with chips, particularly tortilla chips. The crunchiness of the chips complements the juicy textures of the strawberries and pineapples. Simply place a bowl of salsa on the table alongside a plate of your favorite tortilla chips, and you have a delightful snack or appetizer ready for your friends and family to enjoy.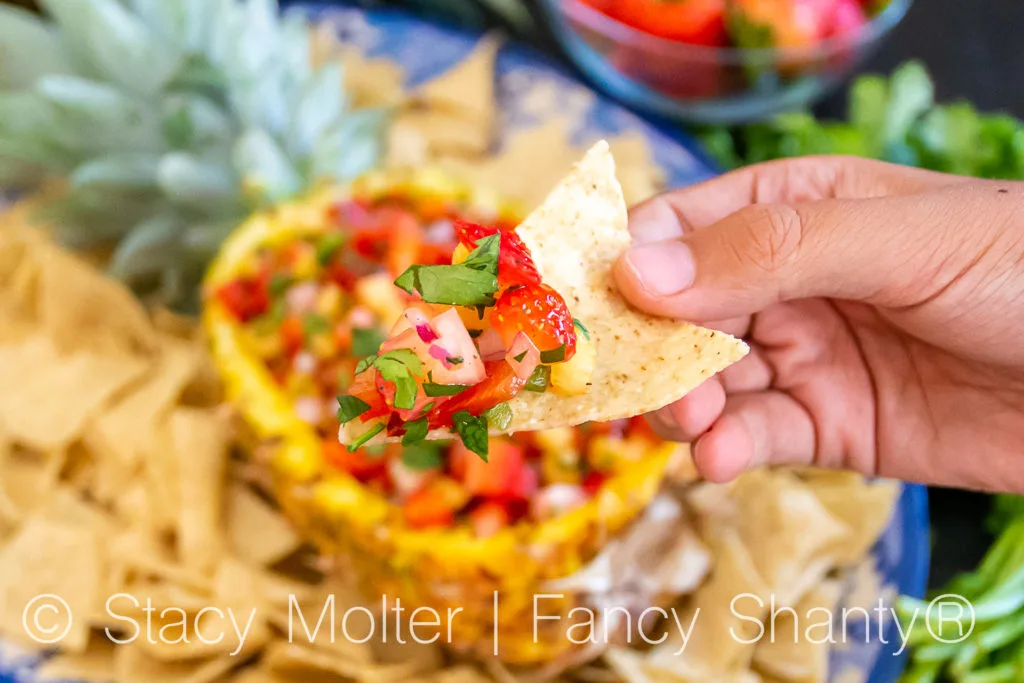 Another great pairing for strawberry pineapple salsa is tacos. You can add a generous spoonful of salsa to your chicken tacos, creating a unique burst of flavor with every bite. The combination of sweet fruit and savory taco ingredients creates a delightful contrast that will leave your taste buds craving more.
If you prefer a more substantial meal, try topping your grilled chicken or salmon with a scoop of this refreshing salsa. The fruity concoction can bring a lively twist to these proteins, enhancing their natural flavors and adding a touch of tropical flair to your dish.
For seafood lovers, you can't go wrong by including this fruity salsa in your shrimp dishes. Whether you're grilling shrimp or sautéing it, adding a dollop of strawberry pineapple salsa can elevate the flavors and transport you to a tropical paradise.
In summary, the versatility of strawberry pineapple salsa allows you to serve it in a multitude of ways. From simple snacks to mouthwatering meals, this salsa has the power to enliven your dishes and bring smiles to your friends and family.
Storing Leftovers
Storing leftovers of your homemade Strawberry Pineapple Salsa is simple and easy. Using an airtight container is essential in preserving the freshness and flavors of your salsa. Just follow these friendly guidelines, and you'll be able to enjoy your delicious salsa for a few more days.
First, make sure to transfer any remaining salsa into a clean airtight container. This will prevent any unwanted odors or flavors from mixing in with your salsa. If you don't have a dedicated container, you can also use a resealable plastic bag, making sure to squeeze out as much air as possible before sealing.
Next, place the airtight container with the salsa in the refrigerator. Storing it in the fridge helps to maintain its freshness and slows down the deterioration process of the fruits and other ingredients. Remember to keep the container in a safe spot where it won't be accidentally knocked over or spilled.
The ideal storage time for your Strawberry Pineapple Salsa in the fridge is up to 4 days. Keep in mind that the salsa may lose some of its vibrant flavors and textures after a couple of days, so it's always best to enjoy it sooner rather than later.
By following these tips, you can extend the shelf life of your homemade Strawberry Pineapple Salsa while preserving its delightful flavors and textures. So go ahead and whip up a batch, knowing you can savor any leftovers for the next few days.
Nutrition Facts
Strawberry pineapple salsa is a refreshing and tasty side dish that pairs well with grilled meats, seafood, or tortilla chips. It is also relatively nutritious due to its use of fresh fruits and vegetables. Here's a rundown of some key nutrition facts:
Calories: A serving of strawberry pineapple salsa has approximately 50-60 calories. The majority of these calories come from the fruits themselves, with strawberries and pineapple providing natural sweetness and nutrients.
Total fat: This healthy salsa is low in total fat, usually containing less than 1 gram per serving. Most of the minimal fat content comes from the fruits and vegetables present in the dish.
Saturated fat: Strawberry pineapple salsa contains almost no saturated fat. This type of fat is typically found in higher amounts in animal products, which are not present in this fruit-based recipe.
Cholesterol: Since this recipe is free of animal products like meat or dairy, it contains no cholesterol. This makes it a heart-friendly option for those watching their cholesterol intake.
Sodium: The sodium content in strawberry pineapple salsa can vary depending on how the dish is prepared. Many recipes have a sodium content of around 10-15 milligrams per serving, which is relatively low. However, keep in mind that adding extra salt or using canned pineapple in place of fresh can raise the sodium content.
Carbohydrates: As with calories, the primary source of carbohydrates in this salsa comes from the fruits. A serving contains approximately 15 grams of carbohydrates, mostly in the form of natural sugars from the strawberries and pineapple.
Fiber: This fruity salsa is a good source of dietary fiber, providing about 2 grams per serving. Both strawberries and pineapple contribute to the fiber content, helping with digestion and promoting a feeling of fullness.
Protein: Although not typically considered a high-protein dish, strawberry pineapple salsa does offer a small amount of protein, around 1 gram per serving, mainly from the vegetables and fruits used in the recipe.
In summary, strawberry pineapple salsa is a tasty and nutritious dish, offering a moderate amount of calories, low levels of total fat and cholesterol, and a decent amount of fiber. While the dish can vary slightly in sodium content, it typically remains a great choice for those seeking a refreshing and healthy appetizer or accompaniment to a meal.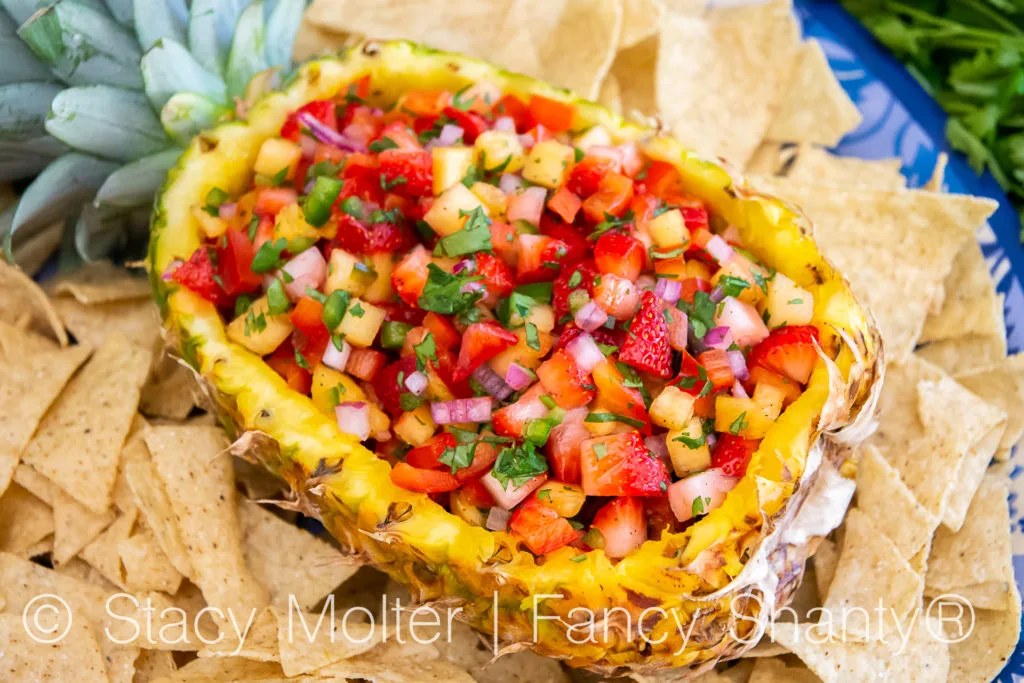 Dietary Considerations
Strawberry pineapple salsa is a healthy and simple dish that offers several dietary benefits. Its ingredients are primarily fruits, which are naturally low in calories and high in essential nutrients. The combination of strawberries and pineapple provides a significant amount of vitamins and minerals, notably vitamin C, which helps boost the immune system and promotes healthy skin.
This fruit-based salsa is an excellent choice for individuals following a plant-based diet, as it contains no animal products. It also aligns well with gluten-free diets, provided that it is served with gluten-free chips or over a gluten-free main dish.
Moreover, this friendly and inviting salsa can easily be adapted to various dietary preferences or restrictions. For example, those watching their sugar intake may opt for a reduced-sugar version by using less fruit or incorporating lower-sugar fruits, such as raspberries or blueberries. Additionally, this salsa can be made spicier by adding more jalapeño or swapping it for a hotter pepper, catering to those who enjoy a stronger kick.
While strawberry pineapple salsa is a light and nutritious dish, it is also essential to consider portion control when consuming any food. Enjoying it as an appetizer or a side dish in moderation will help individuals maintain a balanced diet.
In summary, strawberry pineapple salsa is a versatile and healthy option that caters to various dietary needs and preferences. Its simple preparation, fresh ingredients, and friendly flavor profile make it an attractive option for a wide range of individuals.
Additional Variations
Strawberry pineapple salsa is a delightful and versatile dish, perfect for brightening up any meal. There are many delicious variations to explore, so feel free to get creative and mix in your favorite fruits and flavors. Here are a few suggestions to get you started on your salsa journey, all while maintaining a friendly, third-person point of view:
Kiwi twist: Add some peeled and diced kiwi to the mix for a tropical, tangy touch that pairs beautifully with the strawberries and pineapple. Just replace a portion of the pineapple with an equal amount of kiwi to maintain a good balance of flavors.
Watermelon splash: For a refreshing summer twist, try substituting watermelon for half of the pineapple in the recipe. This will add a lighter, more delicate sweetness to your salsa, perfect for those warm, sunny days.
Onion variations: While red onion is commonly used in fruit salsas for its mild flavor and vibrant color, feel free to experiment with other onion varieties. Sweet onions, like Vidalia or Maui, can add a subtle sweetness, while green onions provide a milder, grassy flavor.
Whole pineapple presentation: If you're looking to impress your guests, consider serving your salsa in a hollowed-out pineapple. Just cut the whole pineapple in half lengthwise, scoop out the flesh, and fill it with your delectable strawberry pineapple salsa. It's an eye-catching and eco-friendly presentation that's sure to wow your friends and family.
Berry blast: Berries are a natural complement to the sweet and tangy flavors of this salsa. Try adding a handful of fresh raspberries or blueberries for a burst of color and an extra layer of fruity goodness.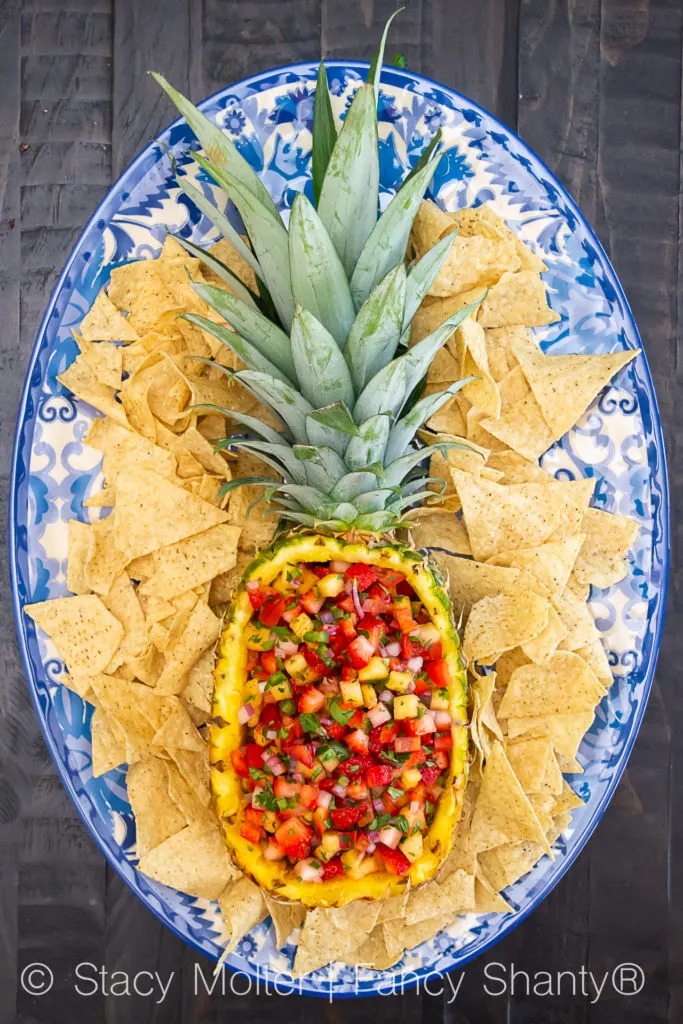 So go ahead and have some fun with your strawberry pineapple salsa recipe, trying out these additional variations for a truly delightful and unique experience. Remember, the key is to enjoy the process and let your creativity shine through.
Conclusion
Strawberry pineapple salsa is a delightful, refreshing, and quick recipe perfect for those warm summer days. With its vibrant blend of sweet and tangy flavors, this salsa offers a unique and flavorful twist on traditional tomato-based salsas. Its colorful appearance and inviting fragrance are sure to impress your guests at any gatherings or potlucks.
One of the best aspects of this recipe is its simplicity. Using just a few key ingredients such as strawberries, pineapple, cilantro, lime juice, and a hint of jalapeño, you can create a fruity salsa that pairs brilliantly with grilled meats, seafood, or even a bowl of crispy tortilla chips.
To make the most of this delicious recipe, always opt for fresh and ripe fruits. Not only will it enhance the taste, but the vibrant colors of the strawberries and pineapple will also create a beautiful visual presentation. This salsa is best enjoyed when chilled, allowing the flavors to meld together for an unforgettable combination.
In conclusion, the strawberry pineapple salsa recipe is an ideal choice for those seeking a unique and refreshing dish during the summer season. Its easy preparation and versatility make it the perfect addition to your menu, be it for a barbeque, a picnic, or simply a midday snack. So why not give this delightful treat a try and savor the burst of flavors that is sure to brighten your day!
Frequently Asked Questions
What ingredients do I need for a fruit salsa?
To make a fruit salsa, you'll need fresh fruits like strawberries, pineapple, and possibly mango if you prefer. Along with fruits, ingredients such as a small red onion, fresh cilantro, lime juice, and jalapeno are also essential. The jalapeno is optional, depending on your taste preferences.
How can I make salsa from strawberries and pineapples?
To make strawberry pineapple salsa, you'll need to chop and slice the strawberries, pineapple, a small red onion, and fresh cilantro. Mix these ingredients in a large bowl. Add lime juice, and if desired, diced jalapeno to the mixture. Stir well, and the salsa is ready to serve.
What is a good substitute for jalapenos in salsa?
If jalapenos aren't to your taste, or you're looking for a milder option, you can try substituting them with diced green or red bell peppers for a milder flavor. For a little more heat without the jalapeno flavor, you could use a bit of red pepper flakes or another type of mild chili pepper.
Do I need to add tomatoes in a pineapple strawberry salsa?
No, tomatoes are not necessary in a pineapple-strawberry salsa. The fruit combination of strawberries and pineapple provides enough flavor, but if you prefer a more traditional salsa taste, feel free to add chopped tomatoes to the recipe.
Can I combine mango with strawberry and pineapple?
Yes, you can add mango to the strawberry and pineapple salsa. Mango complements the other fruits well, adding a tropical flavor and a slightly different texture to the mix. Simply dice the mango and include it in the salsa with the strawberries and pineapple.
Is there a smoothie variant of this salsa recipe?
While there isn't necessarily a smoothie variant of the salsa recipe, you can create a delicious fruit smoothie using similar ingredients. To make a smoothie, blend strawberries, pineapple, mango (if desired), yogurt or milk, and a bit of honey or agave syrup to sweeten. You could also add some ice to achieve the desired consistency. This smoothie will have the delightful flavors of the fruit salsa but in a colder, smoother form.