Fresh Cilantro and cayenne give this Easy Guacamole Recipe a tasty kick, while smokey cumin adds a depth of flavor found in many Mexican dishes. Best of all, you can make this recipe in mere minutes.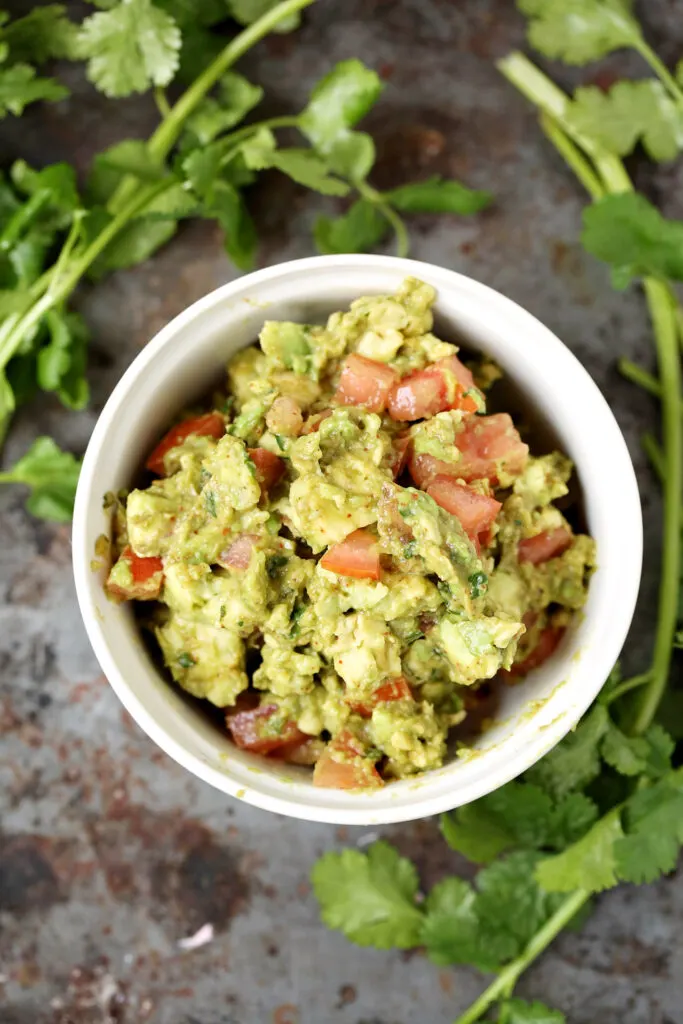 See also: Mexican Corn Avocado Tomato Salad Recipe, Sweet and Spicy Restaurant Style Salsa Recipe
Easy Guacamole Recipe
This Easy Guacamole Recipe is a favorite in our family. Its mild flavor is perfect for adults and kids alike.
If you like a little more heat in guacamole, add a diced jalapeno to taste. Serve it smooth or chunky.
Ingredients:
1 ripe avocado
1/2 tablespoon lime juice
1/4 teaspoon garlic powder
1/4 teaspoon onion powder
1/2 teaspoon chili powder
1/2 teaspoon ground cumin
1/4 teaspoon kosher salt
1/2 teaspoon dried cilantro
1 dash cayenne pepper
1 Roma tomato, seeded and diced
Directions:
Cut and scoop avocado into a small bowl.
Add remaining ingredients, except tomato. Mash with a fork until slightly chunky.
Stir in diced tomatoes. Adjust lime and salt to taste before serving.