This Sun-Dried Tomato Crostini recipe is a delicious and easy-to-make appetizer that's perfect for parties, gatherings, or simply to enjoy with a glass of wine. Here's a simple recipe to make these flavorful crostinis: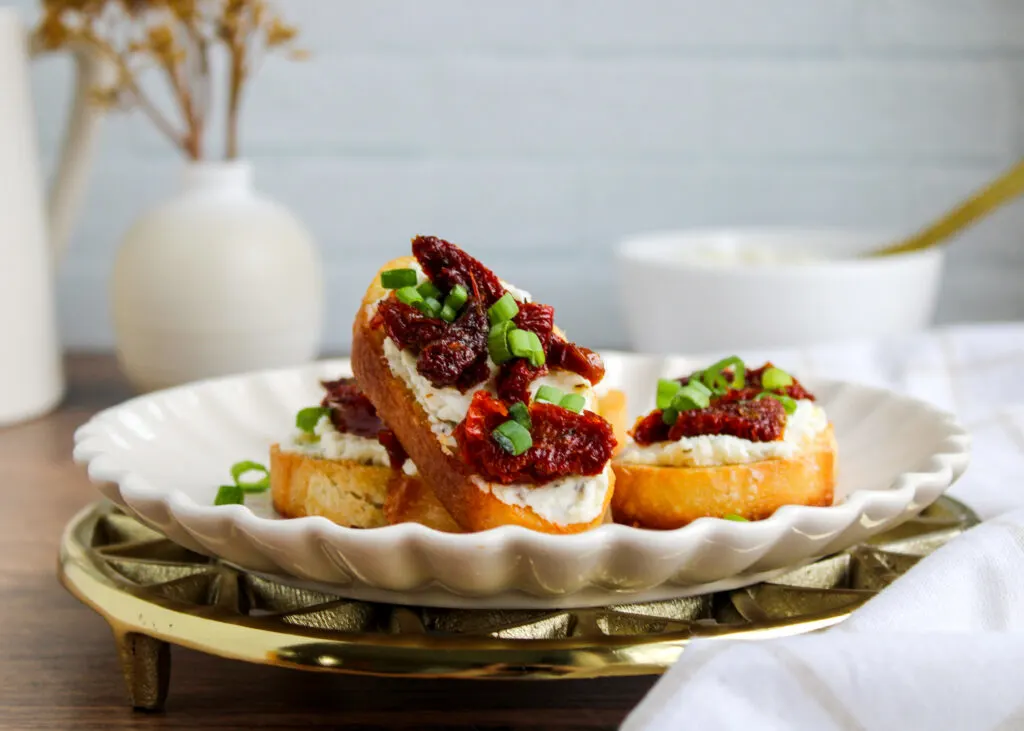 Sun-Dried Tomato Crostini Recipe
Serving : 25 servings
Prep time: 5 minutes
Cook time: 8 minutes
Ingredients:
half a french baguette, sliced
¼ cup garlic olive oil
8 ounces cream cheese, softened
1 ¼ cup feta cheese crumbles
1 teaspoon dried basil
½ cup sun-dried tomatoes, drained
⅓ cup chopped scallions
salt and pepper to taste
Directions:
Preheat the oven to 350 degrees.
Prepare the crostini: Brush both sides of the baguette slices with the garlic olive oil, leaving some oil left. Place the baguette or French bread slices on a baking sheet. You can also rub a garlic clove on the top side of each slice for extra flavor, but this step is optional.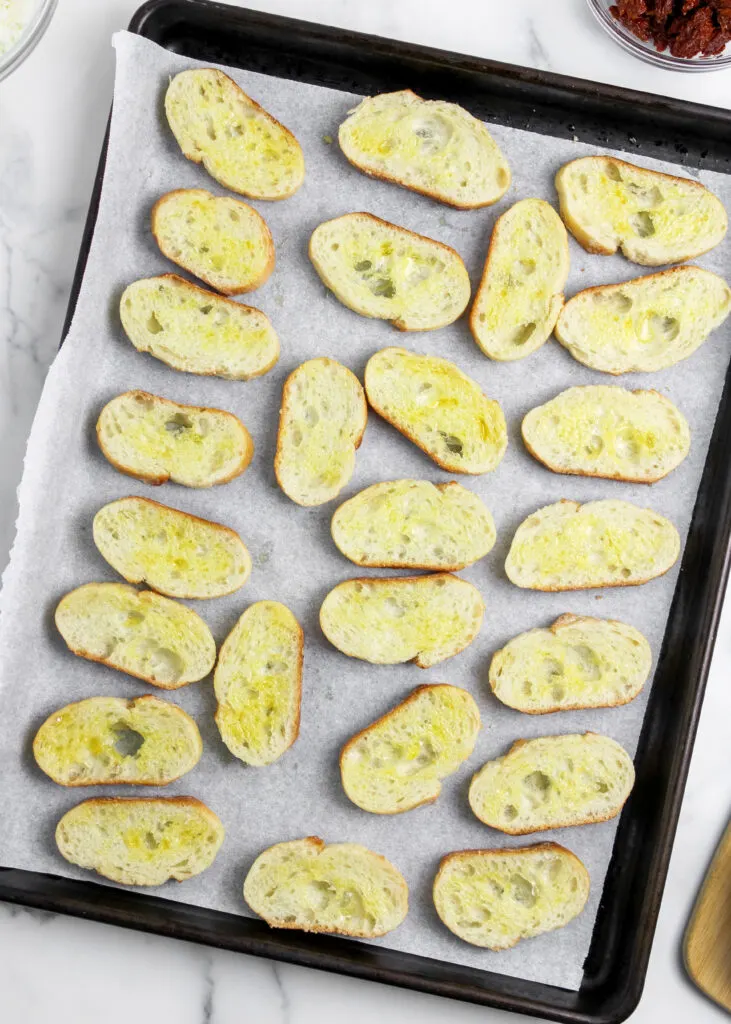 Place in the oven for 6-8 minutes or until they turn golden and crispy. Remove from the oven and let them cool.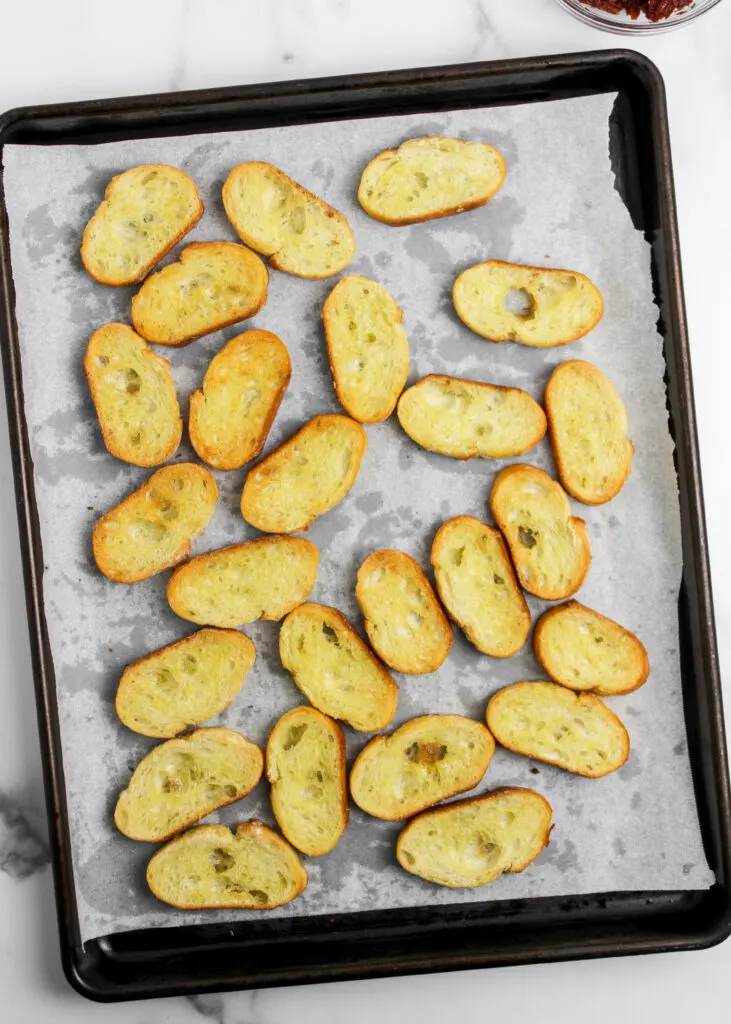 Make the sun-dried tomato spread: Beat together cream cheese, feta crumbles and basil on medium speed until it is mostly smooth, there will still be lumps from the feta crumbles.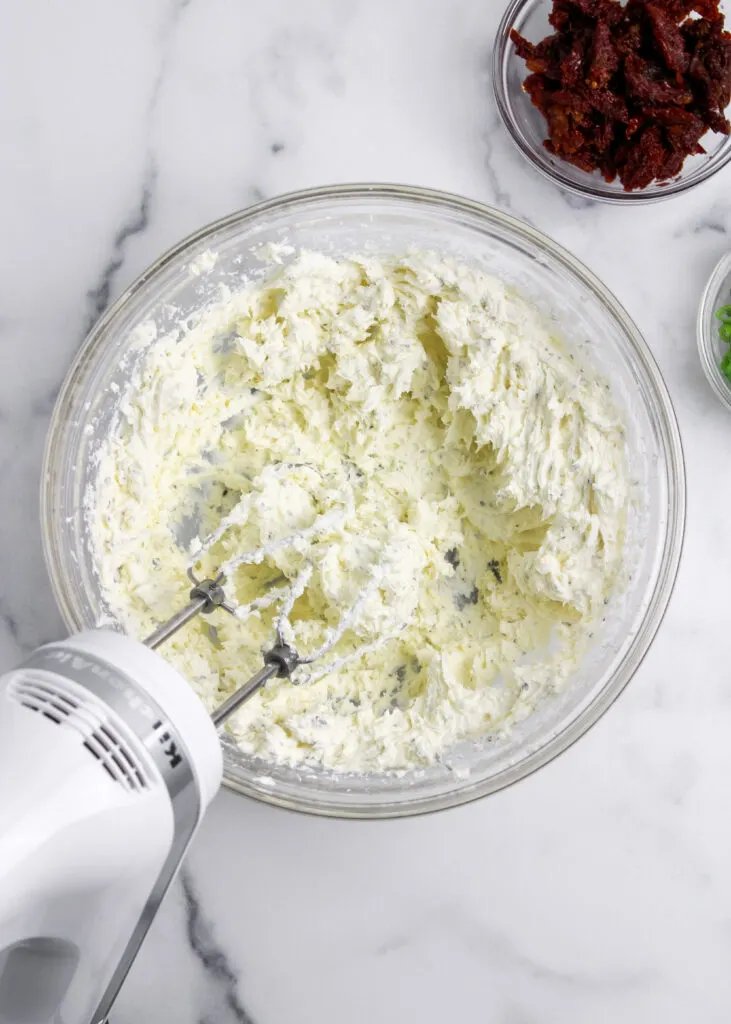 Season the spread: Taste the sun-dried tomato spread and add salt and pepper according to your taste. Blend again to incorporate the seasoning.
Assemble the crostini: Spread a generous amount of the sun-dried tomato mixture on each cooled crostini slice.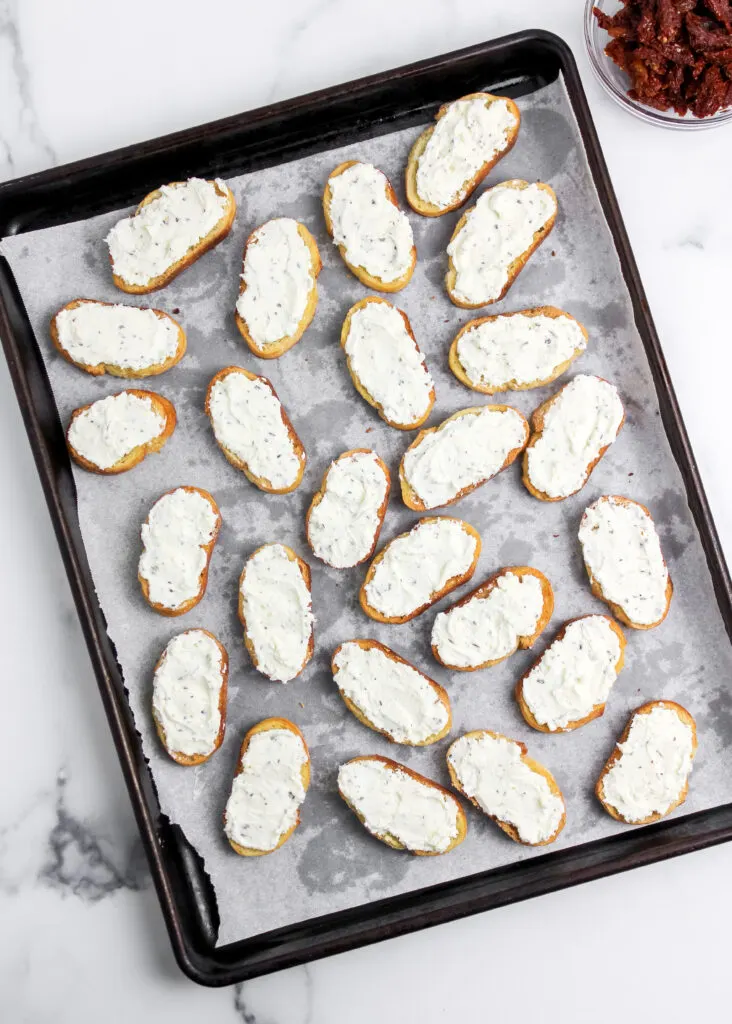 Add the toppings: Garnish each crostini with sun-dried tomatoes and scallions on top. Drizzle the leftover olive oil over the tops.
Optional: For a sweet and tangy touch, you can also drizzle some balsamic glaze or reduction over the top.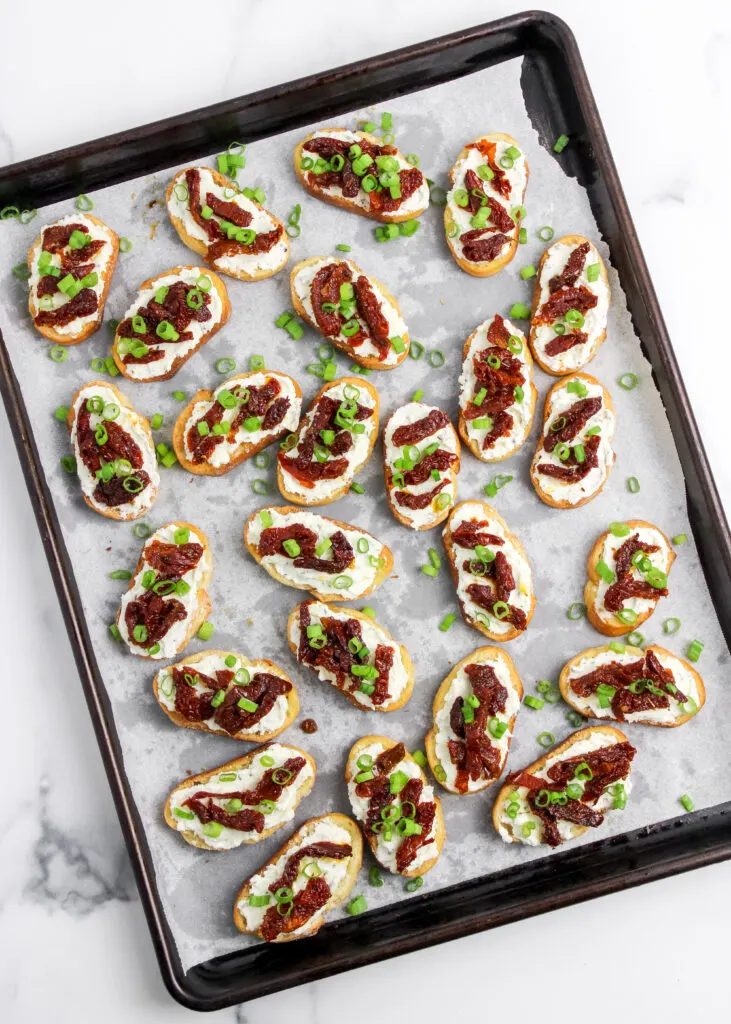 Serve and enjoy: Arrange the Sun-Dried Tomato Crostini on a serving platter and serve them as a delightful appetizer at parties or gatherings. They also make for a fantastic snack or light lunch.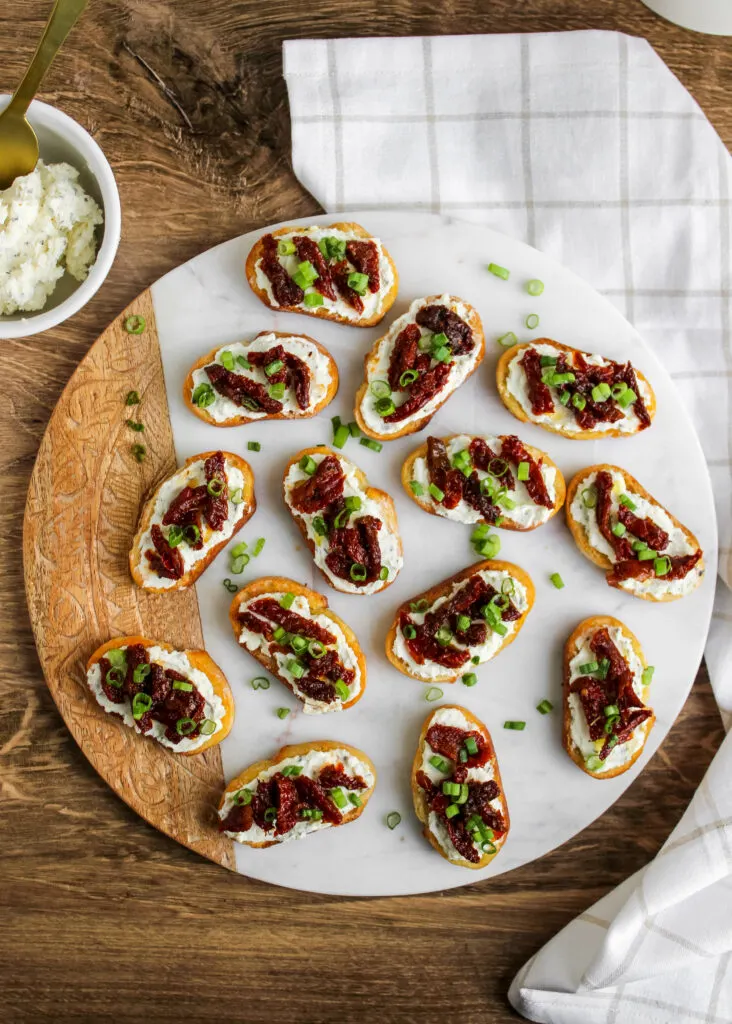 Notes:
Store in an airtight container in the refrigerator for up to 3 days.
You can replace the feta crumbles with softened goat cheese if preferred.
You can also use regular olive oil instead of the garlic if you don't prefer garlic or do not have any on hand.
Throw the sun-dried tomatoes and scallions in the cream cheese mixture to make a dip if you're low on time.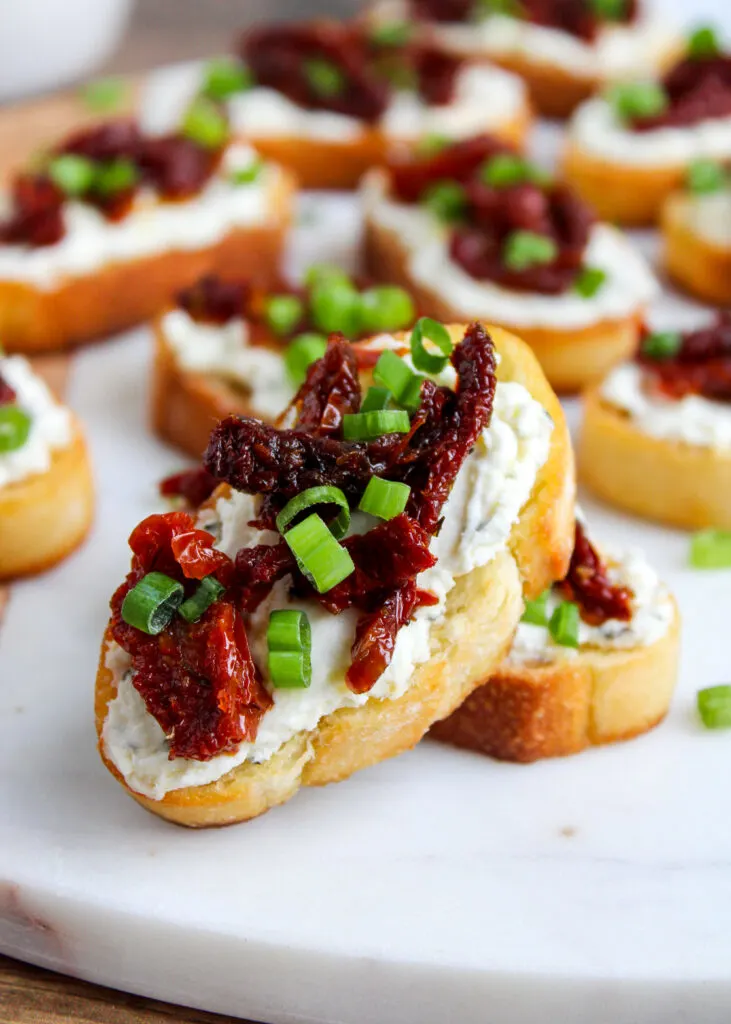 Feel free to get creative with this recipe! You can add some chopped fresh mozzarella, drizzle with a bit of balsamic glaze, or sprinkle with some chopped nuts like pine nuts or walnuts for extra texture and flavor. Enjoy your delightful sun-dried tomato crostinis!