This set of free printable school lunch notes are perfect for slipping into your child's school lunch to give them encouragement, a smile, and even a little giggle throughout the day.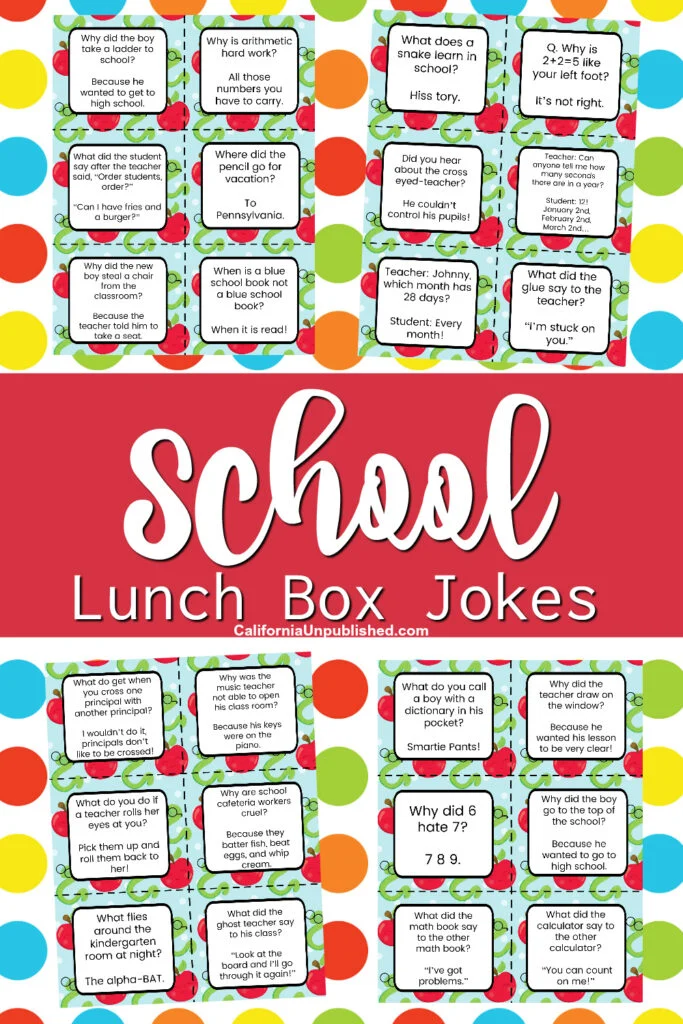 See also: Free Printable Gingerbread Man Lunch Box Notes
Free Printable School Lunch Notes
It only takes a few minutes to print out these fun and entertaining free printable school lunch notes.
Then, simply slip them into your kids' lunch box to make a difference in their day. It's the perfect way to show them how much you're thinking about them while they're away.
Plus, your kids will love sharing these jokes with their classmates, creating endless giggles for the entire class.
Examples of these lunch box jokes include:
Q: What does a snake learn in school? A: Hiss story.
Q: What did the glue say to the teacher? A: I'm stuck on you.
Q: What do you do if a teacher rolls her eyes at you? A: Pick them up and roll them back to her!
Q: What is a math teacher's favorite pet? A: Pi.
Q: What did the math book say to the other math book? A: I've got problems.
Q: Why did the Cyclops close his school? A: Because he only had one pupil.
Q: What did the student say after the teacher said, "Order students, order?"
A; Can I have fries and a burger?
Q: What tools do you need for math? A: MultiPLIERS.
Q; Who sits in front of the class in ghoul school? A: The creature teacher.
Q: Why did the teacher wear sunglasses? A: Because his students were so bright.
…and so many more.
This free printable contain 8 pages of 48 hilarious jokes your kids will love, in a .pdf format designed to print on 8.5″ x. 11″ paper.
Downland and print these free printable school lunch notes here.
If you love these free printable school lunch notes as much as we do, don't forget to pin them and share them with family and friends. There's nothing more joyous than brightening a child's day. Your kids will love you for it!