Ready to plan an RV Adventure of your own? Visit GoRVing.com for all the information you need on how to get started with your camping plans, where to find a Park Model Cabin like the one we stayed in at Ventura Ranch KOA, what to bring, great campfire recipes, and so much more!
One of my fondest childhood memories is traveling with my grandparents in their RV all summer long, and as much as I have longed to give my kids the same memories I grew up with, the fact is we were missing one major element to RVing, the RV. What I didn't realize is you don't need an RV to enjoy the RVing lifestyle. Many RV parks now offer alternative options to owning an RV, including park model cabins, glamping tents, and even a teepee.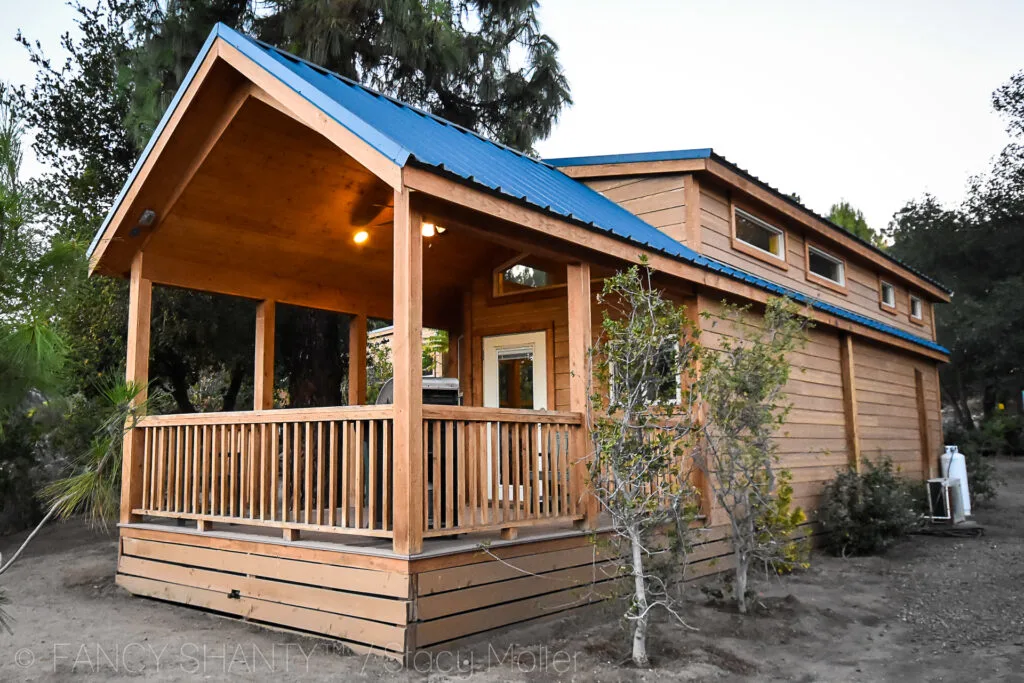 See also: 10 Camping Tips for Families
This past weekend, to celebrate the cherished memories I have with my grandparents and to give our children the chance to make the same memories with us, we cleared our schedules and made the jump into the RV lifestyle by staying in a park model cabin available at many RV parks. Check out all the fun we had at the Ventura Ranch KOA, as well as the camping options available to help your family have the best vacation ever.
Park Model Cabin Camping for Families
RVing is becoming a popular travel option for many families nationwide. Not only can you bring all the comforts of home including your pets, but RVing can also be anywhere from 24-59% less expensive than traditional travel with air, hotel, and restaurants. Best of all, RVing allows many families to take more vacations more often, is less stressful than traditional travel, and helps families spend quality time with each other building lasting memories. With more than 16,000 campgrounds in America featuring spas, vineyards, beach, mountains, kid-friendly attraction, senior comforts, and more, there is something for everyone who wants to go RVing.
For our trip we stayed at the beautiful Ventura Ranch KOA, a 76-acre campground nestled in Heritage Valley at the foot of Ventura County's highest mountain, Topa Topa. The family friendly campground offers four types of accommodations on-site, including rustic tent camping, an authentic Indian-styled teepee, park model cabins, and spacious RV sites, and is perfect for kids of all ages with activities like zip lining, tie dye crafts, movie nights, rock climbing tower, a jumping pillow, and a Bigfoot nature walk. Your kids will absolutely love this park! I know this because my kids already want to go back.
Check out the video we created below of our family making the most of our weekend at Ventura Ranch KOA. It's a small example of the fun and excitement you can find at RV parks nationwide.
And I have insider information about the Ventura Ranch KOA that you are absolutely going to love. Across from our park model cabin was a bunch of brightly colored tubes, not yet put together, but as if they were just delivered. Of course I couldn't help but ask what they may be for, and much to our excitement the Ventura Ranch KOA is in the process of building water slides. The RV park we love so much will be getting even better in the coming months!
Park Model Cabins
I know you're thinking 'But I don't have an RV.' And as I mentioned before, neither do we. That's where park model cabins come in. Before our trip, I didn't even know park model cabins were a thing. I thought RV parks were for RV's and nothing else. Boy, was I wrong.
A park model cabin is a trailer-type RV that is designed to provide temporary accommodation for recreation, camping, or seasonal use. Park model cabins are available in one or two bedroom floor plans, and are no larger than 400 sq ft.
The great thing about park model cabins is that select cabins, like the deluxe park model cabin we stayed in, feature a private bedroom, full bathroom, kitchen, living area, and a large 120 sq. ft. loft. In addition, our deluxe cabin had a 150 sq. ft. deck with a gorgeous view, and a large patio with gas grill, picnic table and fire ring. The cabin was even equipped with linens, towels, kitchen supplies, full size appliances, 38″ flat screen TV, DVD player & central heat/air.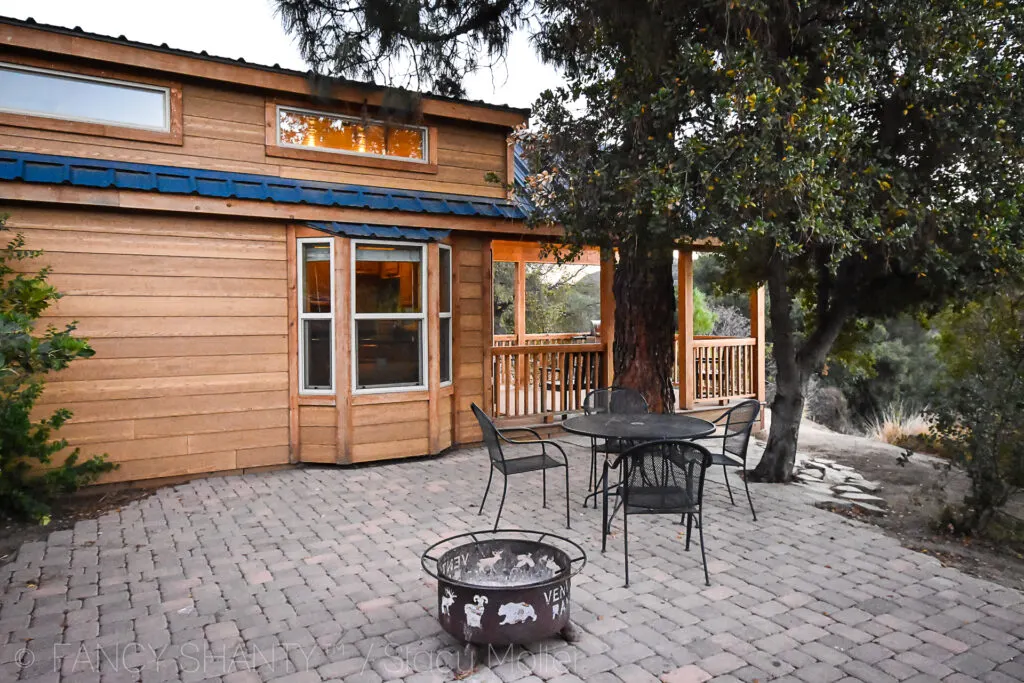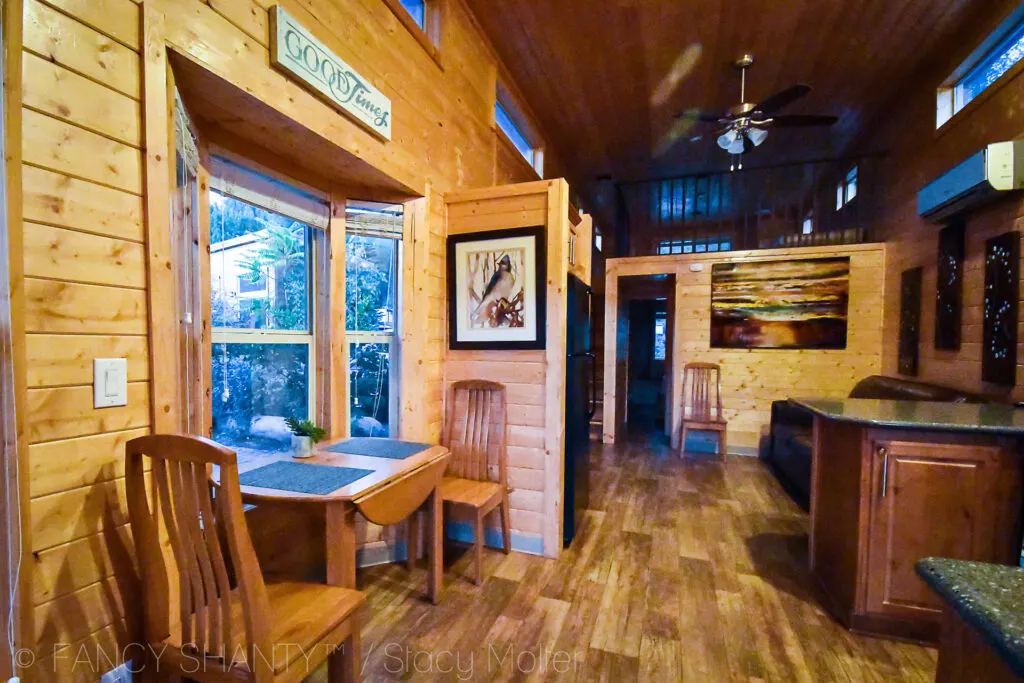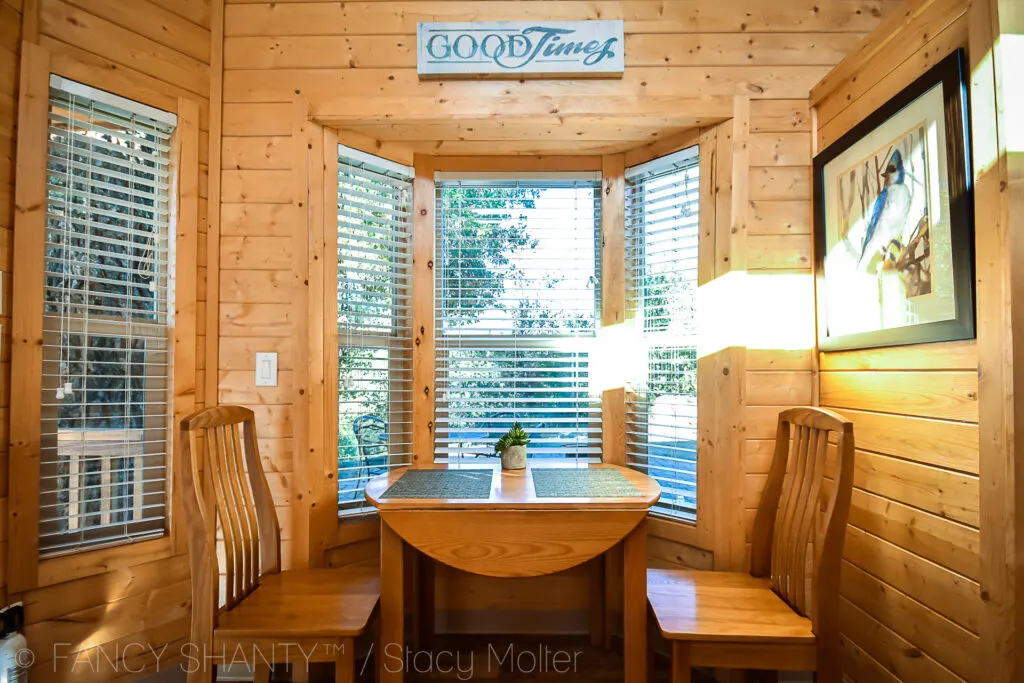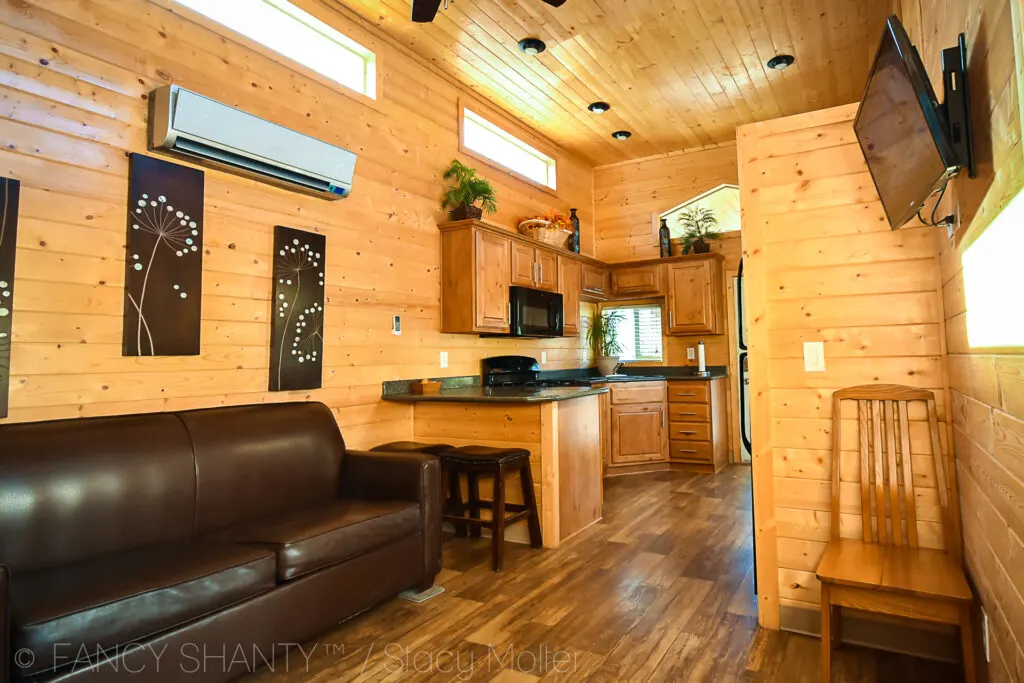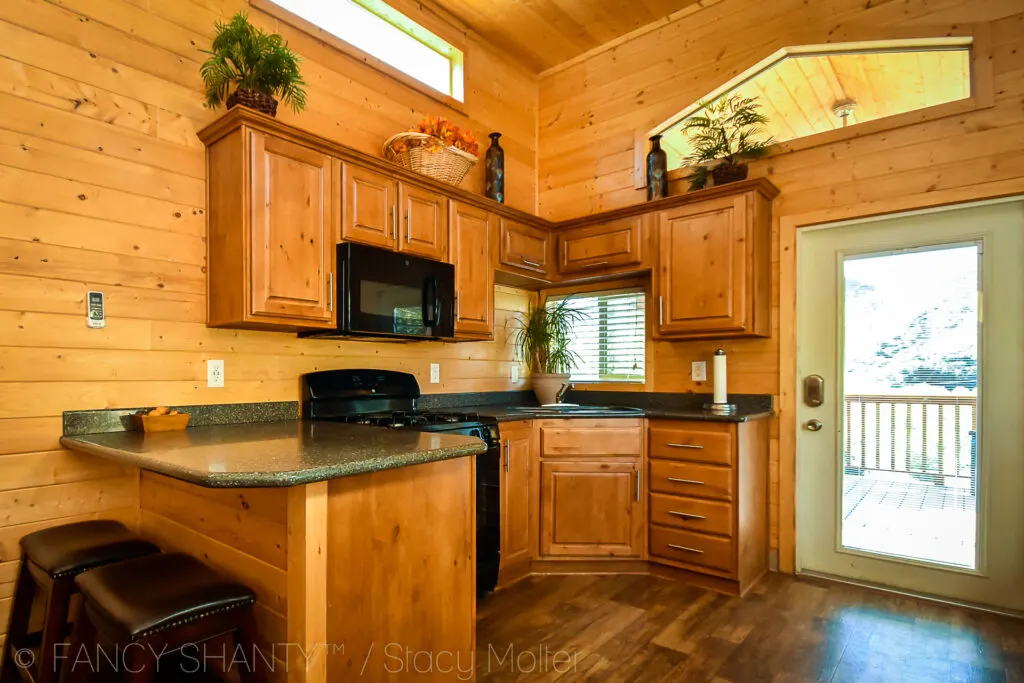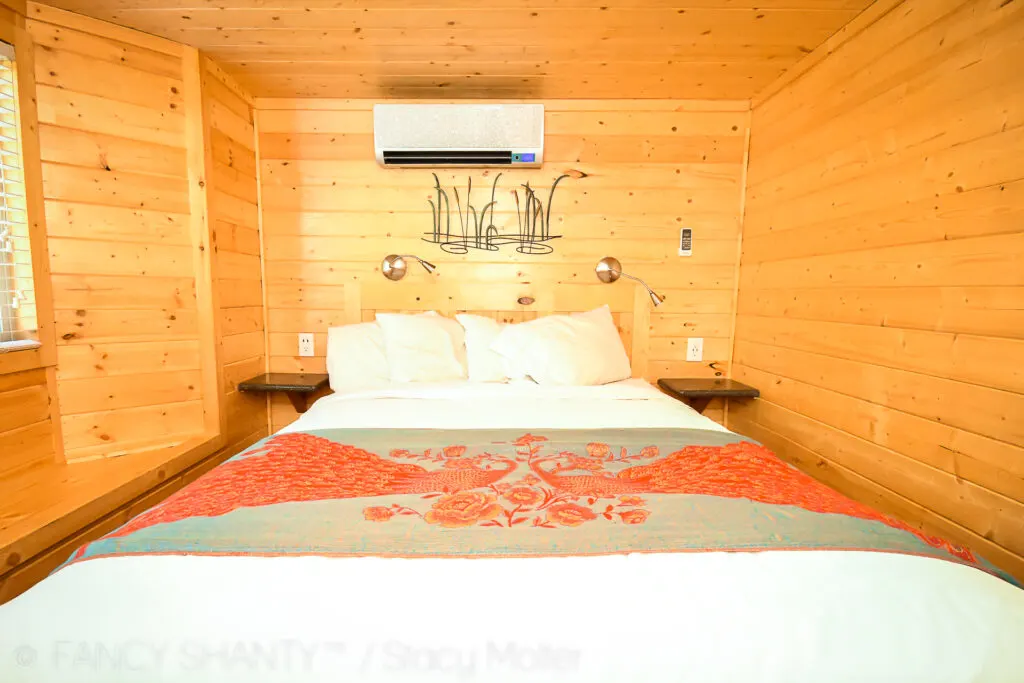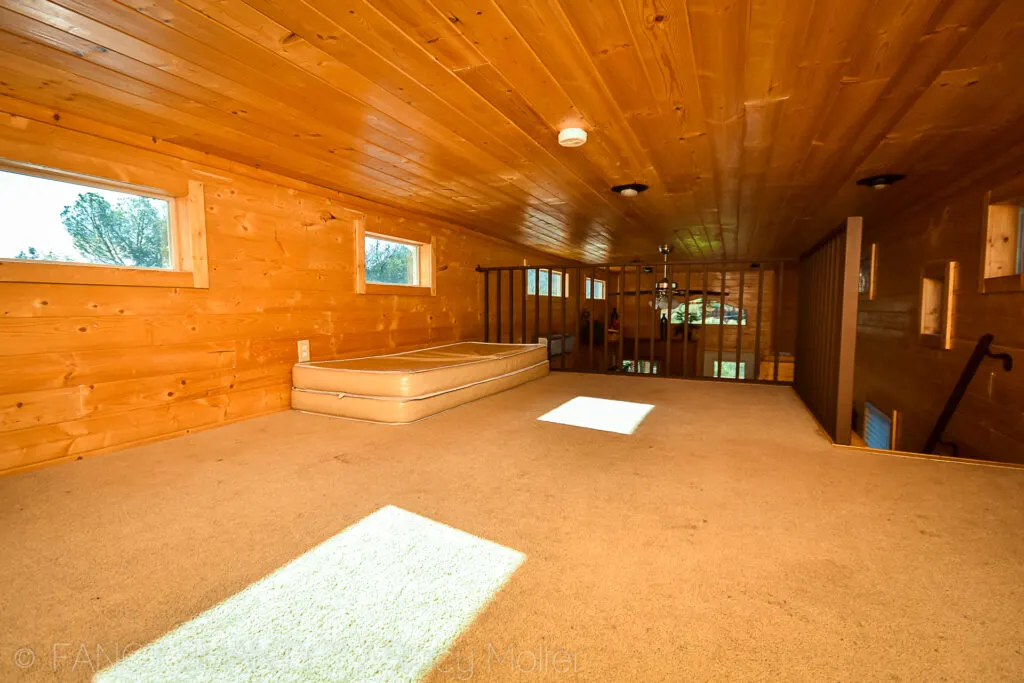 Cute right! We had a fantastic time staying in the park model cabin. Not only were we warm and comfortable in our cozy little cabin, even when camping in the middle of November, it was an added bonus to have our restrooms and shower within the unit on the cold nights. It's the little things in life….
And the kids totally loved the loft! We had all the kids pack up their sleeping bags and favorite stuffed animals for the ultimate slumber party away from home. After a day full of fun and exciting activities and delicious smore's at night, we loved listening to our kids giggle and reminisce about all the fun they as they drifted asleep upstairs.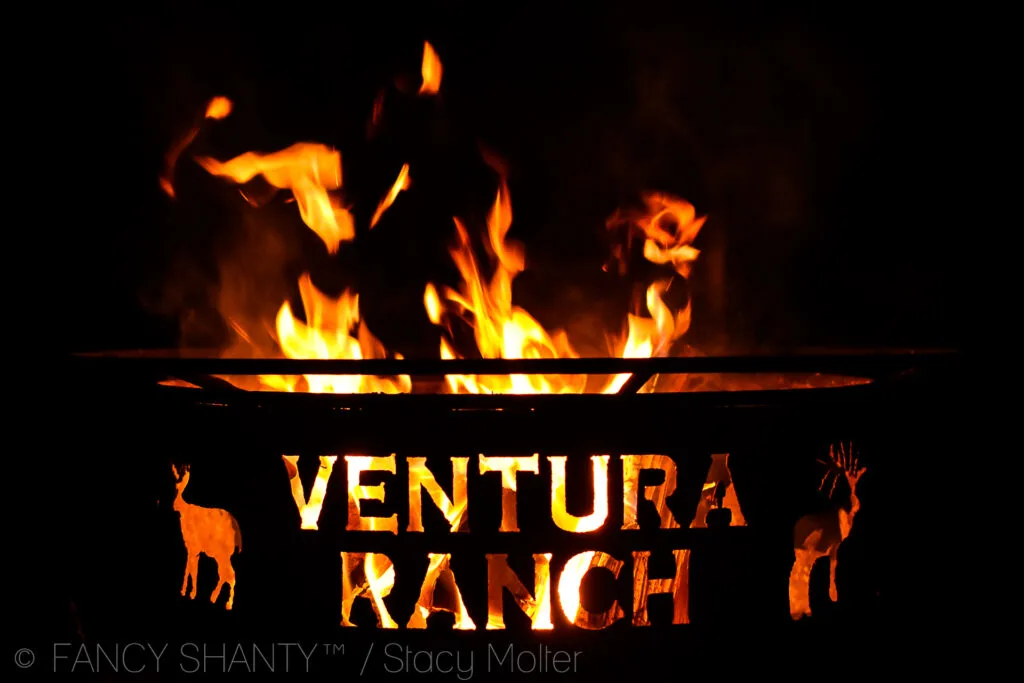 If you're looking for a more rustic camping experience and want to get a little closer to the great outdoors, you can choose to stay in a glamorous tent, Indian-styled teepee, or even bring your own tent to use at one of the many large tent sites. (Note: Water, restrooms, and showers are a short walk away. Teepee do not have electricity.)
Though we didn't stay in a glamorous tent or Indian-styled teepee, we did tour these accommodations to be able to share with you how amazing they are inside and out.
Glamorous Tent Camping (Glamping)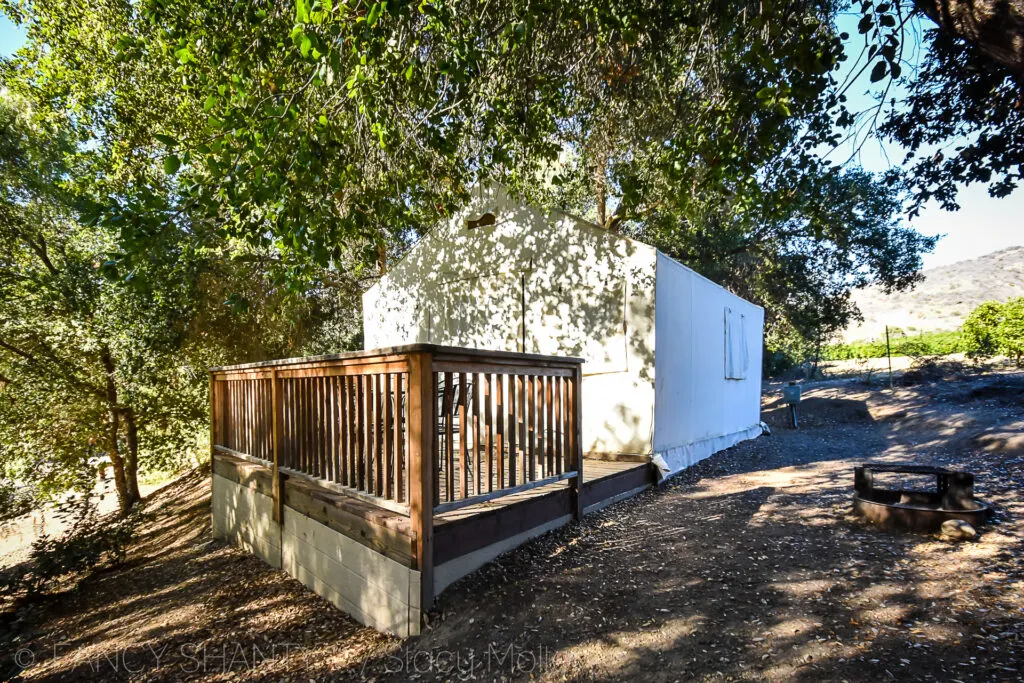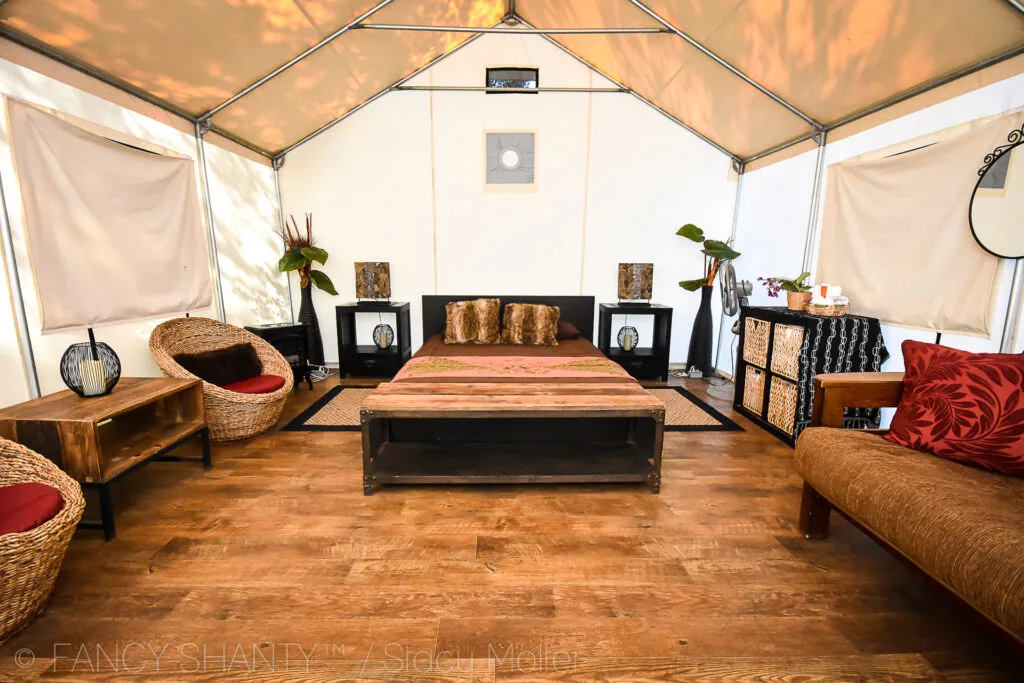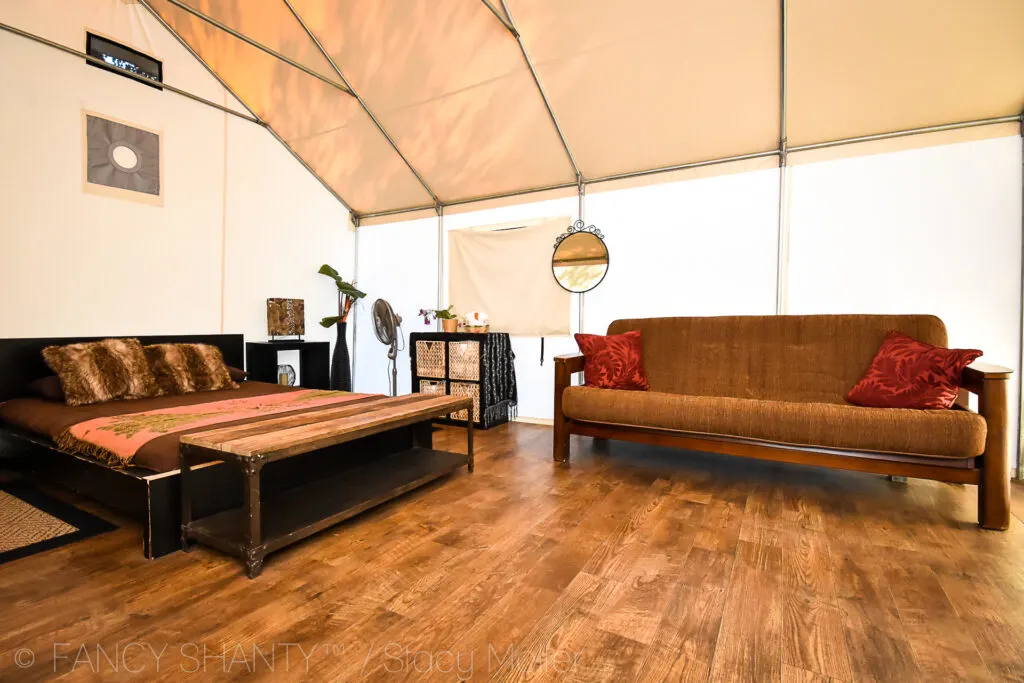 Authentic Indian-Styled Teepees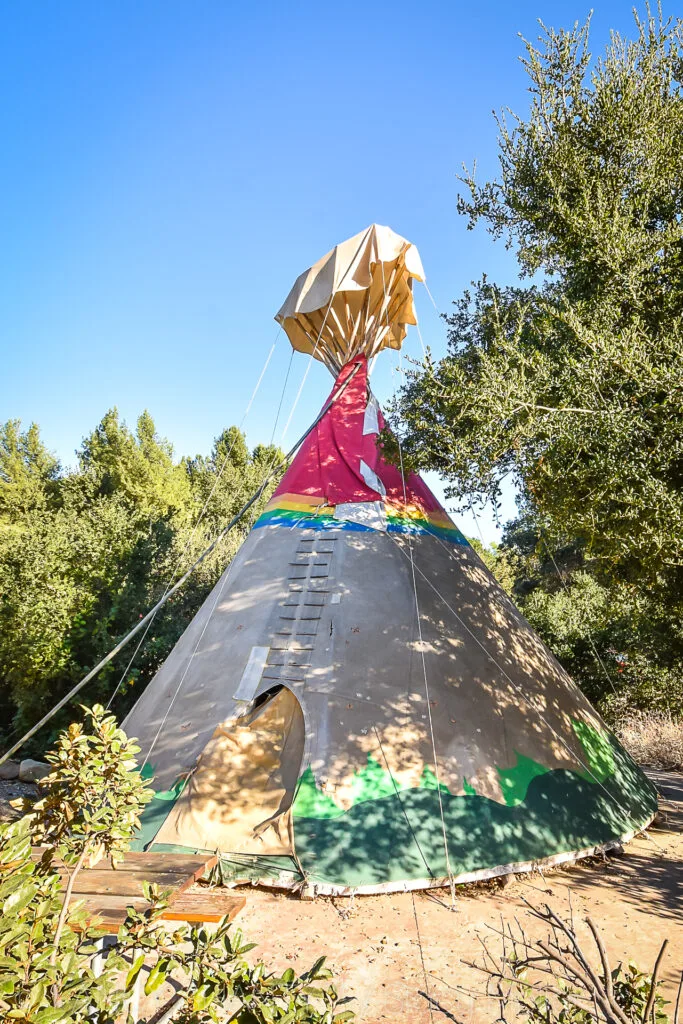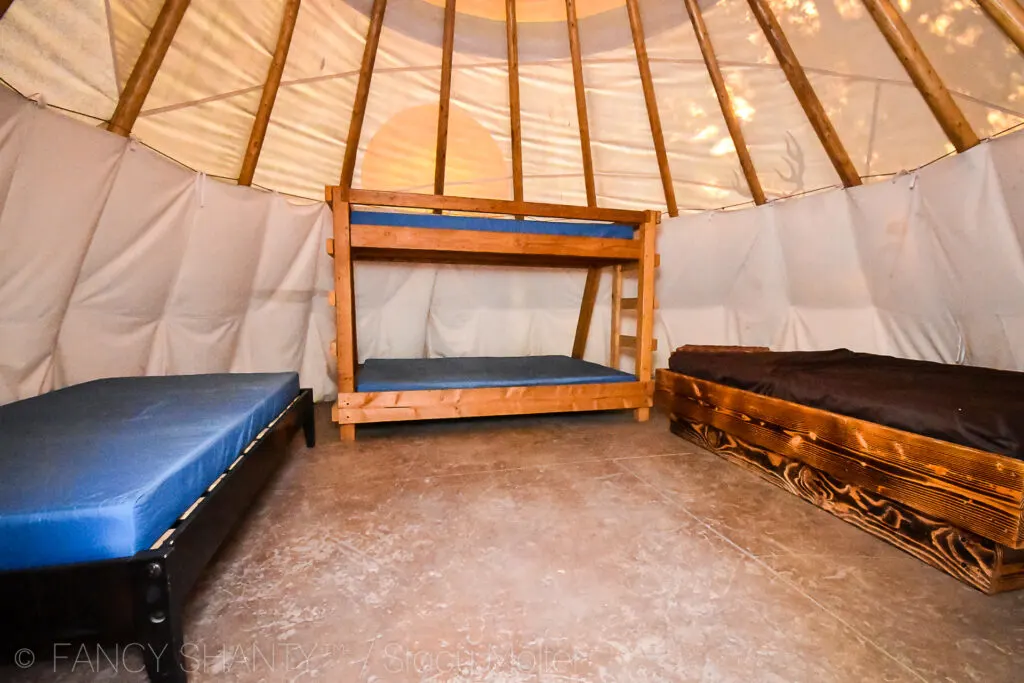 Whether you're looking for a high-end camping experience or a more simplified camping experience, there's an RV park to fit your family's lifestyle. Now's the time to get out and make memories your children and grandchildren will remember for a lifetime.
So what are you waiting for? Visit GoRVing.com for all the information you need on how to get started with your camping plans. We hope to see you at a park soon!