Pumpkin is not just for fall anymore! Delicately light and perfect for a morning treat, this summery sweet Dark Chocolate and Pumpkin Muffins recipe will satisfy the summer squash lover in your life.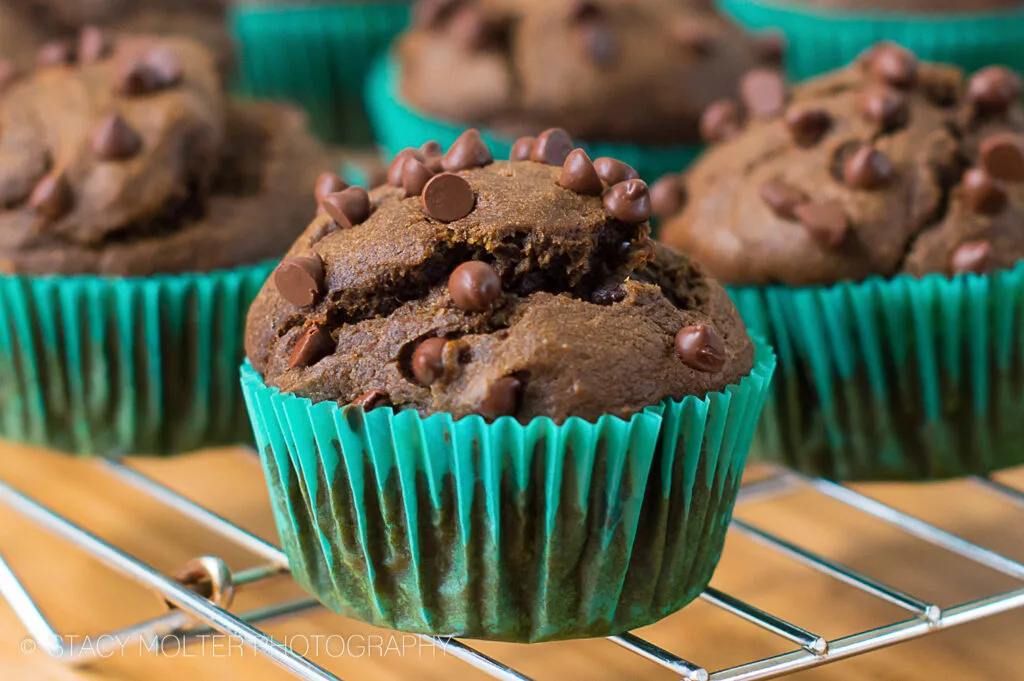 World's Best Dark Chocolate and Pumpkin Muffins Recipe
You won't find any cinnamon, cloves or nutmeg in this fresh, summery recipe. Perfect as a quick and filling snack by the garden, this Dark Chocolate and Pumpkin Muffins Recipe is full of fruity pumpkin flavor paired with rich, dark chocolate.
Ingredients:
1 cup puree pumpkin (not pumpkin pie filling)
2 tsp pure vanilla extract
1 large egg
1/2 cup vegetable oil
1/3 cup + 1 tbsp buttermilk
2/3 cup granulated sugar
1 tbsp (packed) light brown sugar
2 tbsp unsweetened dark cocoa powder (look for dutch-processed)
1/2 tsp sea salt
1-1/8 tsp baking soda
1-2/3 cups all-purpose flour
1/4 cup miniature chocolate chips (bittersweet or semisweet)
Directions:
Preheat the oven to 375 degrees.
In a large mixing bowl, combine the pumpkin, the vanilla, and the egg. Add the oil and milk and stir to combine. Add the sugars and stir again.
Using a spatula, stir in the cocoa powder, scraping down the sides of the bowl as necessary. Mix until the cocoa is completely incorporated.
Stir in the salt and baking soda, then gently fold in the flour, until just combined.
Divide the batter among 12 paper-lined muffin cups, about 3/4 full. Sprinkle with the chocolate chips.
Bake for 15-17 minutes, rotating once until the muffin tops look set, and a cake-tester inserted into the center of the muffins comes out clean. Remove from the oven and let cool in the muffin tin for 5 minutes, before removing and cooling completely on a baking rack.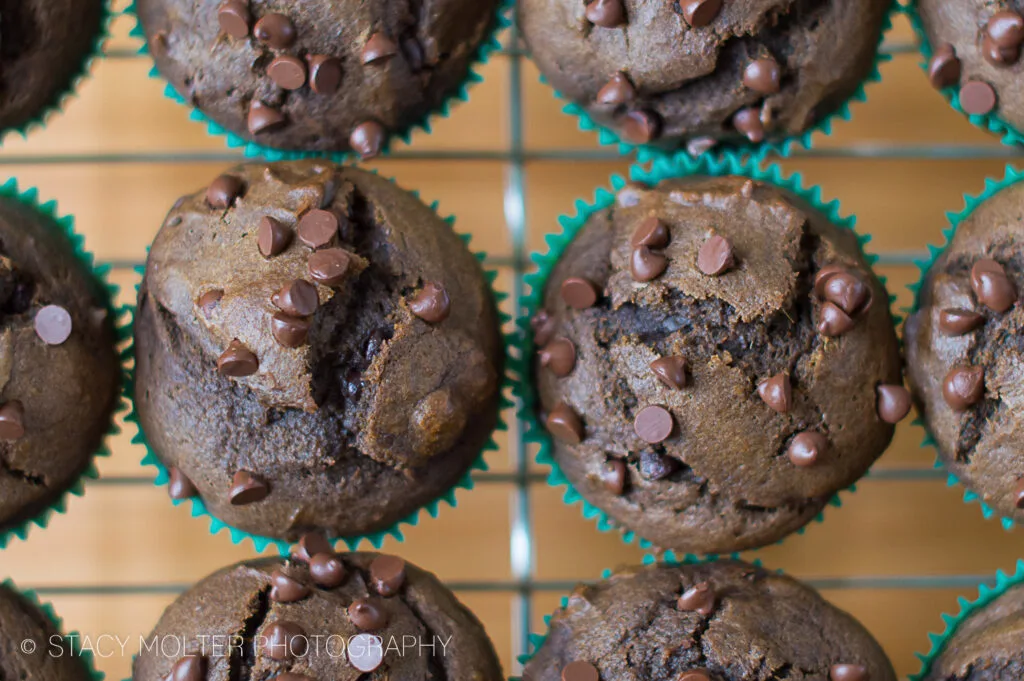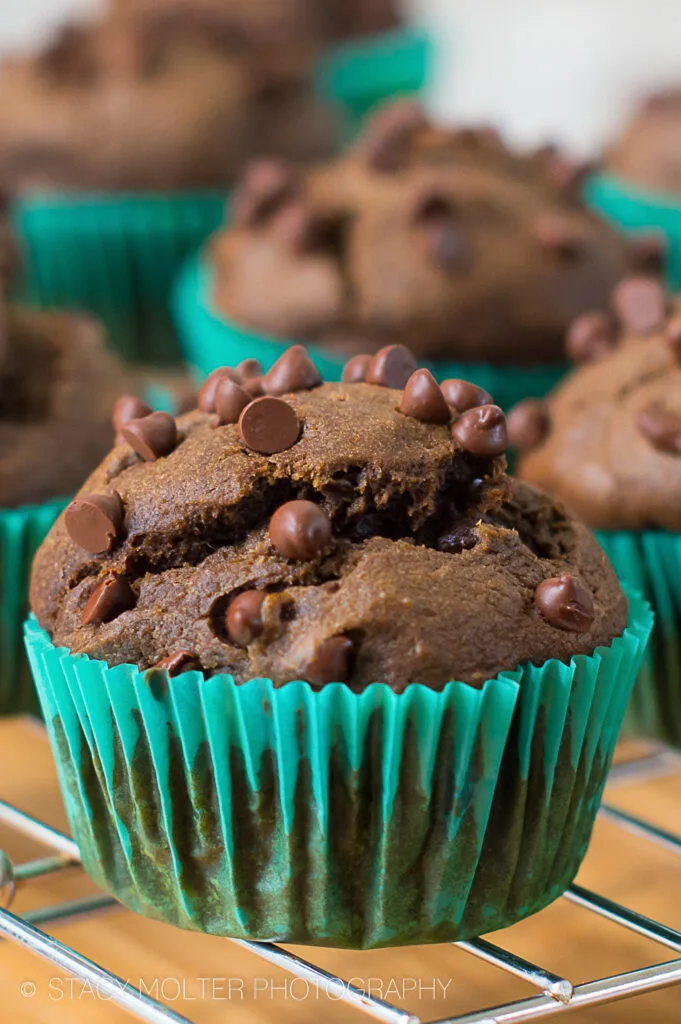 If you love this world's best dark chocolate pumpkin muffins recipe, try our salted dark chocolate popcorn recipe.
Looking for More Ways to Enjoy Dark Chocolate and Pumpkin? Check out these Ideas.
Dark chocolate and pumpkin are two distinct ingredients that can be enjoyed separately or together in various culinary creations. Here's some information about each of them and how they can be combined:
Dark Chocolate:
Dark chocolate is made from cocoa solids, cocoa butter, and sugar. It contains a higher percentage of cocoa solids compared to milk chocolate, which gives it a richer, more intense chocolate flavor.
It is known for its potential health benefits when consumed in moderation. Dark chocolate is a source of antioxidants, particularly flavonoids, which may have heart-protective effects.
Dark chocolate is commonly used in baking, confectionery, and desserts, such as chocolate bars, brownies, truffles, and chocolate-covered fruits or nuts.
Pumpkin:
Pumpkin is a type of winter squash and is a popular ingredient in both savory and sweet dishes.
It has a mild, slightly sweet flavor and a vibrant orange color.
Pumpkin is a good source of vitamins, especially vitamin A, as well as fiber and various antioxidants.
It is often used in pies, soups, stews, roasted dishes, and even as a puree in smoothies.
Combining Dark Chocolate and Pumpkin:
The combination of dark chocolate and pumpkin can be delicious and is especially popular in the fall and during the Halloween and Thanksgiving seasons. Here are some ways they can be paired:
Dark Chocolate Pumpkin Pie: Incorporate dark chocolate into your traditional pumpkin pie recipe by adding chocolate chips or chunks to the filling.
Chocolate-Dipped Pumpkin Treats: Dip pumpkin-flavored cookies, biscotti, or pumpkin bread slices into melted dark chocolate for a delightful treat.
Pumpkin and Chocolate Muffins: Bake muffins that include both pumpkin puree and dark chocolate chips for a flavorful breakfast or snack.
Pumpkin and Chocolate Truffles: Create truffles by mixing pumpkin puree with dark chocolate and rolling the mixture into small balls, then coating them in cocoa powder or chopped nuts.
Hot Chocolate with Pumpkin Spice: Enhance your hot chocolate with a touch of pumpkin spice flavor by adding a dash of pumpkin puree and a sprinkle of dark chocolate shavings on top.
Pumpkin and Dark Chocolate Bars: Make homemade energy bars or granola bars using a mixture of pumpkin puree, oats, and dark chocolate pieces.
Pumpkin and Dark Chocolate Cookies: Bake cookies that combine pumpkin puree with dark chocolate chips or chunks for a seasonal treat.
Remember that the balance of flavors is key when combining dark chocolate and pumpkin. The natural sweetness of pumpkin can complement the bitterness of dark chocolate, resulting in a harmonious and indulgent combination. Enjoy experimenting with these ingredients in your kitchen!