With summer just days away, finding a great vacation spot for your family that will keep everyone entertained is a must! Water slide parks are a way to do just that. Whether you're going with the entire gang, kids included, or just a fun getaway with your significant other, water slide parks are the way to go! Here is our list of the best water slide parks in California.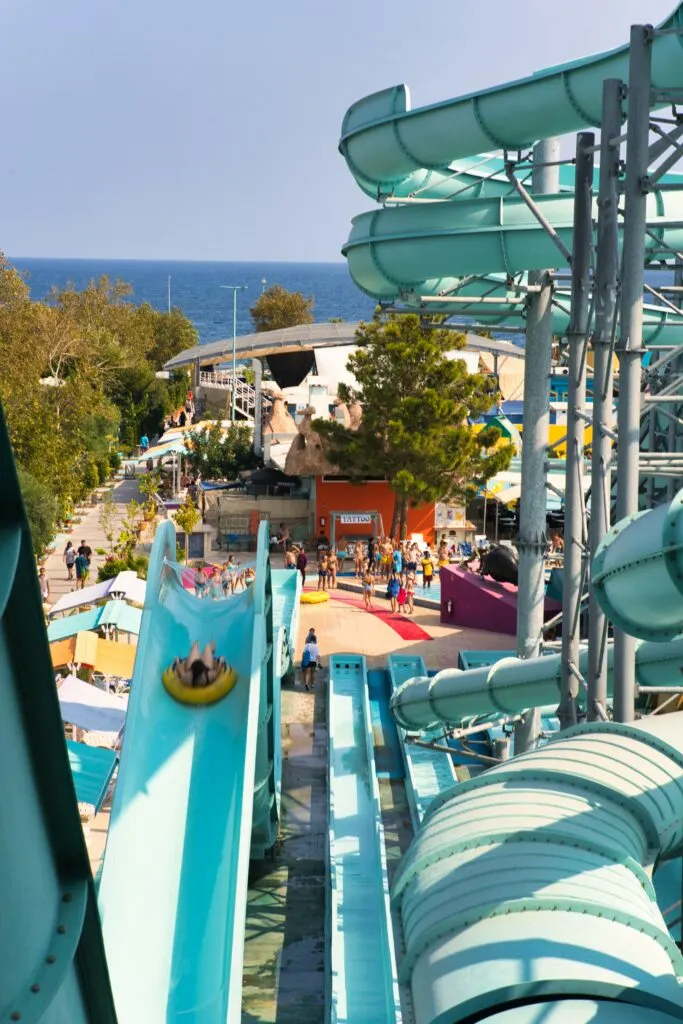 The 5 Best Waterslide Parks in California
If you're bringing the family, Great Wolf Lodge Garden Grove in Garden Grove California is a great place to start. You can find your lodging and your fun all in one place with Great Wolf Lodge. They have a big indoor water park full of fun! Slides include the Coyote Canyon-a 4 story drop with a spinning vortex. the Howlin' Tornado-Four person raft with twists and turns, a six-story tunnel of fun, and ends with riding up the walls before your last tunnel.
Alberta Falls- Four stories of swiftly banking turns and steep pitches using a tandem tube. Takes you outside the building before bringing you back inside for the final drop. Wolf Rider Wipeout-Endless wave for bodyboarding or flow boarding. There are different riding positions for beginners and experts! There are also kiddie pools and features for your littles, too. When everyone tires out, you can go relax in your hotel room without getting in your car, and come back later without paying more.
Waterworks Park in Redding California has something for all ages. You can rent your own cabana for the day to have a comfy place to relax after enjoying all the thrills of the water slides! The Dragon dips and curves inside of a 350 foot enclosed flume. The 32-foot aqua tube is pitch black except for a few places where there are unique aqua shimmering lighting.
The Cyclone is an enclosed flume where you can ride solo or double on rafts. There is a 5 story drop before you're shot into a 40-foot bowl. Spin several times around the bowl before finding yourself sucked into a vortex through the center into an enclosed tube, and then find yourself shot through a waterfall into the Cyclone pool! The Avalanche drops you right off a "cliff" before free falling 4 stories and then shoots you back up the other side. Waterworks Park is also family friendly featuring child-friendly slides and rides as well.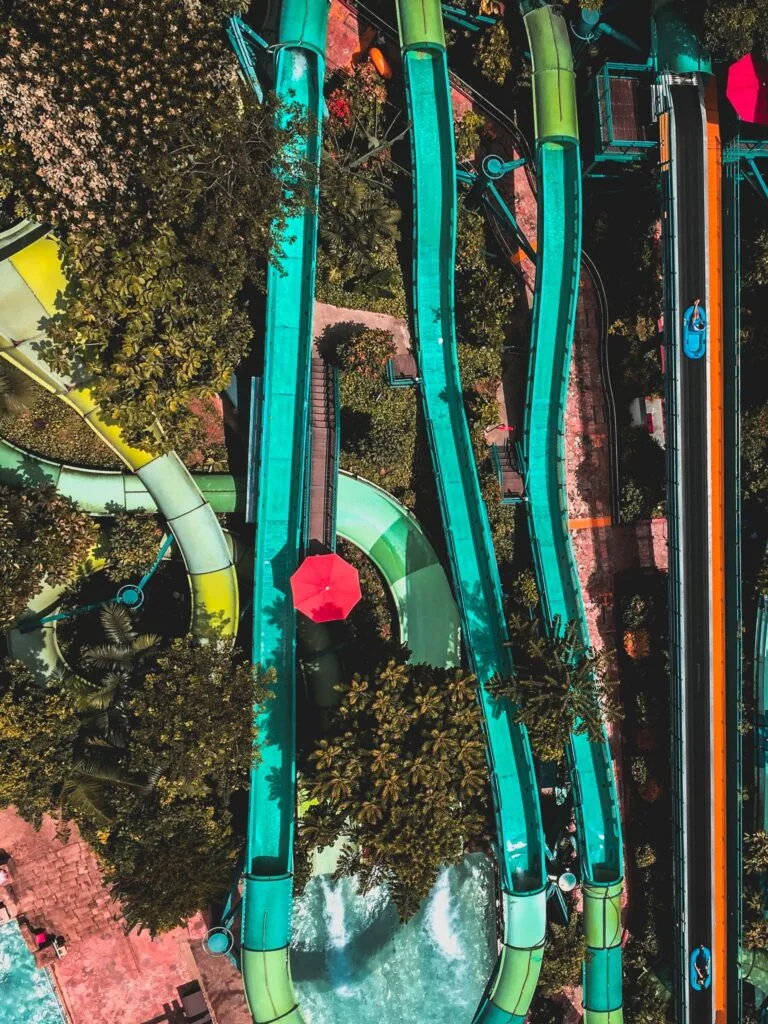 Six Flags Hurricane Harbor is located in Los Angeles, Valencia, California. This park not only features water slides but also has a theme park as well. Hurricane Harbor features a few really great rides including Black Snake Summit. This ride has four different water slides that are super fast! Two side by side slides (Coiled Cobra and Twisted Fang) that weave together in two fully enclosed pitch black tubes. Ride down 75 feet!
These are the two highest slides in Southern California with 500 feet of curves. The two lower slides (Sidewinder and Boa Constrictor) are racing slides. They are both fully enclosed and use a raft. Bonzai Pipelines is six stories high! The ride starts out with your entire body enclosed in a tube with a trap door that, once opened drops you into a 50-foot free fall. The rest of the course is pitch black, with 200 feet of looping action. Lightning falls include three water slide routes: Typhoon Tube, Tornado Tube, and Thunder Trough. These are all totally different raft courses. All are open air slides. Steer your raft with the handles, or let the slide steer you.
Water World California is in Concord, California. The amazing attractions feature Diablo Falls, a body slide that you'll find a 6-foot free fall into a ten-foot-deep catch pool. You can choose between open air slide or a pitch black tube! The Tornado Tube Slide is a six-story funnel. You'll be swirled 75 feet in the air! This is the only ride of its kind in California. Honolulu Half Pipe is a four and a half story ride with a curved slide that shoots you forward and back. Cliff Hanger is a 70-foot body slide that you'll find yourself at the bottom in just three seconds! A great family water park that includes some great terrifying slides for mom and dad!
Raging Waters in San Jose has a few great slides of its own. Body slides, tube slides, and racers, too! Bombs Away body slide finds you enclosed in a capsule with the door sealed. Just as you find yourself wondering what will happen next, the trap door beneath your feet opens and shoots you through and enclosed inverted looping flume over 200 feet! Dragon's Den is a tube slide that catapults you through darkness and drops you into the mist-shrouded abyss of the dragon. Finally, the Sidewinder Mat Racer will be your child's favorite! With three siblings or friends, you can race down the first inside/outside head first quad racer! Find out who is the fastest, again and again!
Each of these parks are family friendly, featuring fast-paced rides, as well as slower rides for the kids. Either way, even if you're just going with your significant other, you'll find that you enjoy yourself immensely wherever you decide to go!
Do you have any water slide parks in California you would like to see added to our list? Leave them in the comments below.
Like this California article? Check out: